In most cases, backyard sheds are modest, rudimentary structures. However, in spite of their 'bare' essence, the sheds are more prone to the harmful elements of nature than other areas of our homes. And, even from the functional perspective, such sheds are practically essential as enclosed storage spaces for your garden tools and other household hardware items. So, in a nutshell – a backyard shed is a crucial spatial component of our house. In this regard, we can always follow a few easy tips so as to ensure the building quality and the cost effectiveness of our DIY backyard shed.
1) Alternative types of foundations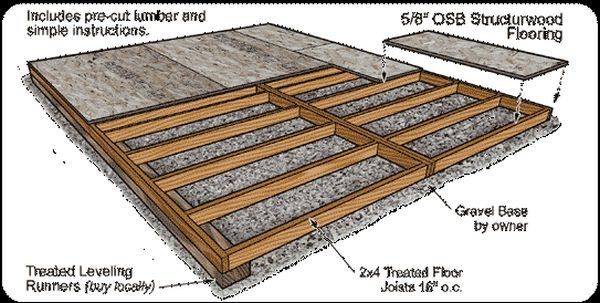 When you have decided on a DIY project of a backyard shed, you would always start building with the foundation. And, since the sheds are pretty much elementary in their scope, we need not waste our resources on sturdy concrete slabs. Other easy yet hardy alternatives include timber foundations filled with pressed gravel or cement. A even lighter version (can be adopted in areas with high soil strength) entails the arrangement of horizontal wooden members (joists) on a wood foundation, and then covering them up with plywood panels.
2) Crafting the framework as per your plan
Once you have completed the foundation, it is time to arrange the framework of the shed. For this process, it is very important to have a clear-cut idea about the plan and blueprints of your conceived structure. For example, if you are constructing a simple shed with a single door and compartment, it is advisable to craft two identical frames and connect them with 2×4's wood. However, if you are opting for two compartments, it should be obvious to you to construct three identical frames. Their subsequent (and varied) connections can be made by other wood sizes like the shorter 1×2's and longer 2×6's. Suffice it to say; you should always go for a simpler plan.
3) Choosing the roof material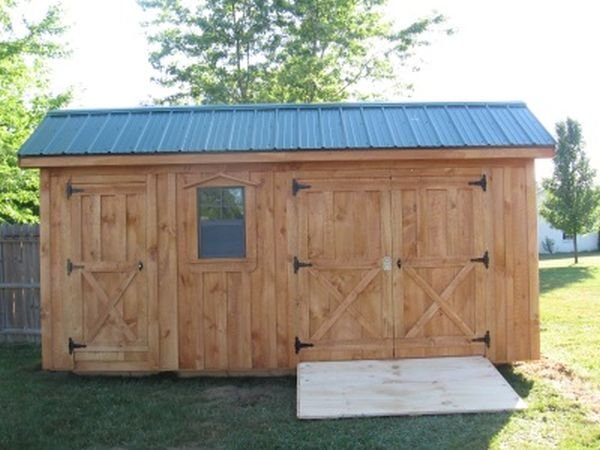 Our first choice would always be metal roofing for a very simple reason – durability. In a general sense, metals do cost more than asphalt and wood; however, their longevity (especially in harsh climatic conditions) is typically more than 20-30 years. Even in terms of construction, we daresay metallic roofs are easier to install than plywood. DIYers only need to fix the broader metal panels to the purlins, as opposed to nailing a slew of shingles. Anyhow, even if you go with plywood, you should always remember to account for over-hangings along the sides and front facade of the shed.
4) Modification of windows and shelves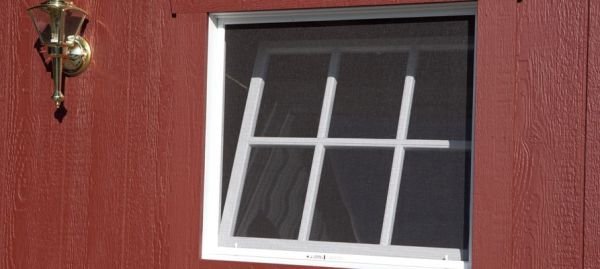 As we mentioned before, simplicity is the name of the game in the constructional process of a backyard shed. In this regard, when it comes to windows, we should opt for the basic type of 'barn sash' with its single frame and unobtrusive design. The best part about them is their effortless application credentials. The user can actually fix or hinge them along both the vertical axis and the horizontal axis. And, as per their simplicity, they do come pretty cheap in the hardware market when compared to more complex designs.
Additionally, you can also think about incorporating sky-lights along your roof. A low-cost solution would be those easy-to-install plastic domes. And, if you want to take the more conventional route, do check out these steps.
Coming to the shelving system, one needs to consider the height of the shelf along with the wall area. An effective time-saving alternative is to order the cut-pieces (from any local lumberyard) according to your fit. In this regard, sturdy veneered plywood is always a good option for the shelf material. We had previously covered a detailed step-by-step process of crafting a bookshelf (the same principle applies here), which you can check out by following this link.
5) Paint job or not?
A paint job over a conventional timber shed is not always a good idea. However, if you do want to have a fine aesthetic finish from a paint job, you can opt for other shed materials like fiber cement, composite trim and the costlier PVC plastic trim. And, finally, if you do want to paint over wood, make sure that you have used a rot-resistant variety like cedar, along with climate resistant paints or treatments.