Commercially available bath salts are touted to mimic the properties of natural mineral baths and hot springs. However, as per their manufacturing process, the majority of such products have inorganic (i.e, synthetic) water-soluble ingredients. Well, for consumers who are confused by such contradictory claims, Firebox has just put on sale the all-natural 'Bathing Bad' Bath Salts.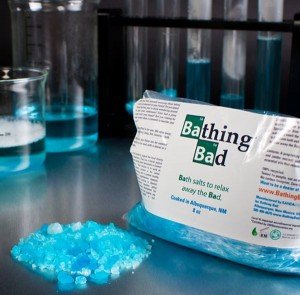 Taking a marketing cue from the hit TV series of Breaking Bad, the folks at Firefox assure us that these bright-blue bath salt crystals were created 'under strictly controlled conditions'.
The ingredients used for the Bathing Bad Bath Salts comprise of a blend of jumbo ancient salts and organic essential oils, with each package weighing in around 225 g. And, beyond all the ingredient oriented technicalities, the bath salts are once again touted to provide us with a relaxing bathing experience by virtue of their natural essence.
As for pricing, each package of Bathing Bad Bath Salts will set you back by £14.99 (which comes to approximately $23.50).
Via: FireBox