Over the span of this year, we at Home Harmonizing had the fortune of coming across a number of innovative accessories from across various realms, ranging from tactical BBQ aprons, gripping coffee mugs to automatic wine-bottle openers. And, the best part is – all of them are available for online purchase, thus making it easier for you to avoid those perilous quests of Christmas shopping.
So, without further ado, let us check out the 10 best accessories of this year that could very well emerge as late additions to your unique Christmas List.
To fill your morning video game nostalgia with a delicious slice of puzzle solving, we have comes across the Tetris themed coffee mug. Created by ThinkGeek, it is of course no ordinary coffee mug with some Tetris graphics on its curved facade. The conception is rather about a Heat Changing Mug that not only allows you to fill the cup with some hot beverage, but also gives you the glorious satisfaction of watching those heat activated blocks fall (much akin to action in the classic video game itself).
Price – $10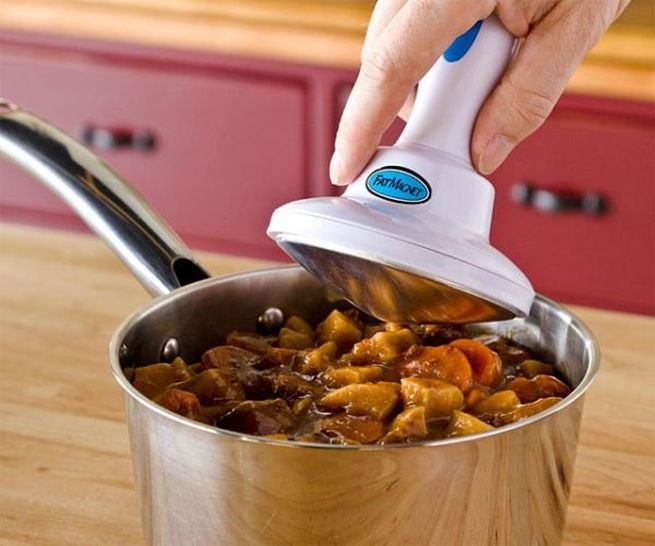 Fat Magnet is a novel device which has the unique capability to suck off fat from the food's surface! The working scope is pretty simple; the device actually comprises of a metallic cone that can be applied atop the surface of food items like stews, soups and rich gravies, after the item has been kept in the refrigerator for some time (in freezing temperature).
Price – $14.90
The Sunday sun is up and rising, your backyard is basking in its effulgent glory; while your wife is plotting to have your neighbors over for some quiet afternoon lunch. Well, then it is time to don the 'Tactical BBQ Apron'. Almost looking like a high-end bullet proof vest, this apron is the ultimate solution for the barbecuing vigilante inside you. The suit comprises of an authentic MOLLE (Modular Lightweight Load-carrying Equipment) system, along with 'military grade' storage mechanisms like utility clips and spacious pockets that every closet grill-master craves for.
Price – $37.95
4) Mighty Mug that avoids your coffee spills
Sometimes, the simple designs are the ones that remarkably improve your day. From the Butterfly Effect perspective, you start off your day by waking up uneasily, and then accidentally spill your cup of coffee due to your state of drowsiness. This is bound to put your day in doldrums of disarray. However, the above pictured Mighty Mug 'might' have saved you from this scenario with its sturdy grips that attach to any surface. In other words, the minimally designed cup doesn't spill your coffee due the 'uber sticking' quality of its specially crafted base.
Price – starting from $5
5) Pillow Set having retro video game images
For those who don't know, video gaming is a serious business, and by serious we mean $50 billion serious! Now, coming down to the business at hand, we have fortunately stumbled across the Retro Video Game Cartridge Pillow Set. The pillow designs take an interesting route by depicting 'imaginary' games, like Unicorn's Revenge and Lava Jump (presumably to avoid issues with original game licenses). However, the authentic imagery remains intact, and that seriously fiddles with our geeky hearts.
Price – $25.
For buying details, please refer to this link.
From sleeping, now we have the righteous privilege of drinking our favorite liquor the geeky way! Sold by Athena's Wink (at Etsy), the outer skin of the 'Nerdtendo Gamebooze' flask mimics the exalted Nintendo Game Boy. As for its structural credentials, the novelty item is crafted from stainless steel, while being wrapped in high grade vinyl. The vinyl is held by a super-strong adhesive which according to the designers – 'attaches itself all the way around the flask.'
Price – $20
For buying details, please refer to this link.
The winter nights and the forthcoming Christmas calls for special occasions where you can gleefully sip your glass of wine. However, the predicament for some of us lies in opening the bottle of champagne after a stressful day at work. As an easy solution, the 'Best Electric Wine Opener' enters the fray to solve your celebratory woes. Now, we should make it clear; the 'best' epithet was given by Hammacher Schlemmer Institute for the contraption's effective worm insertion capability. This advantage is well rounded off by the automated ability to remove the cork, which is in stark contrast with the less advanced technologies available in the market.
Price – $60
For buying details, please refer to this link.
Symbolism goes a long way in inspiring and even intimidating people. Batman knows that, and so does Hundred Million, a design company that created the Sugar Skull Spoon. Envisaged as a simple spoon for taking sugar, the 'twist' lies at the front end with a skull like shape. So, while the accessory aids in our sugar consuming process, it also subtly (and ominously) reminds us of the ill effects of too much sugar.
Price – £8.00 (around $13)
One day you might want to make some nicely satisfying, creamy cappuccino, while on the other day you might want to settle for a frothy dose of espresso. But that doesn't mean that you have to splurge money for two separate cups for each of these coffee concoctions. Why not? Well, because we have stumbled across the C'UP, a reversible cup that can cater to both of your coffee compulsions.
Price – €220 (about $300) for set of six; €30 (about $40) for a single piece
For buying details, please refer to this link.
10) USB and battery powered 'neck cooler'
Leave it to the Japanese to contrive something which equally 'cool' and practical. We are talking about the baffling yet functional device that is touted as the neck cooler. Shaped like a plastic collar with an opening near the throat region, this summer wonder device supposedly measures the heat accumulated around our neck by sensing the thick, pulsating blood vessels. And, as a solution, it soothes that area with its cool air blast, achieved by a built-in fan. And yes, we know now it is winter, but Summer is Coming!
Price – 1,980 yen (around $20)
For buying details, please refer to the end of this link (the ordering process is unfortunately in Japanese).