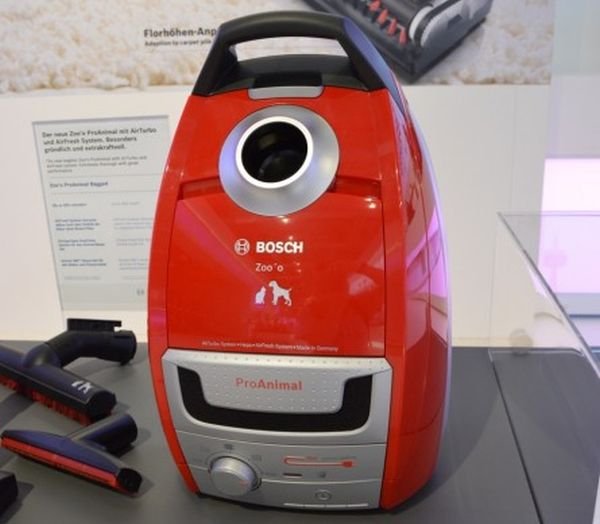 If we look into past many centuries we will find that humans have always shared a close bond with their pets. Many amongst us own dogs and cats. We always feel good when we have our pet around but at the same time it's quite challenging to keep your home tidy and clean as pet's fur and paw-dirt continues to pile up in our living space. In this situation to make our life easier Bosch's new Zoo ProAnimal vacuum cleaner that has been optimized to suck up animal hair comes into role.
Featuring AirTurbo system this purposely designed vacuum cleaner cleans surface 30 percent faster than the Bosch's other models. Using compressor and large-diameter hoses it delivers strong air to its turbo brush and creates affective suction in return. With its two bristles one hard and the other soft, the harder ones for cleaning up dust and softer one to grab hairs, this is the best suited product to be considered. To deal with different materials it has a 4x thread lifter (vacuum cleaner jargon) included and with its hard floor nozzle we can even clean our floor. Available in both bag and bagless models this Zoo ProAnimal vacuum cleaner remains free from fine particles and unpleasant odors, with the use of HEPA filter. Also its bagless model has an automatic self-cleaning system.
Introduced in Berlin at IFA 2012, both versions of Zoo'o ProAnimal vacuum cleaner will be available by September in stores for your pick. Price for bagged version is €280 (US$350) and for bagless it is €429 ($536). Now dealing with your lovable pet's activities will not be a cause of worry to you.
Via: Gizmag