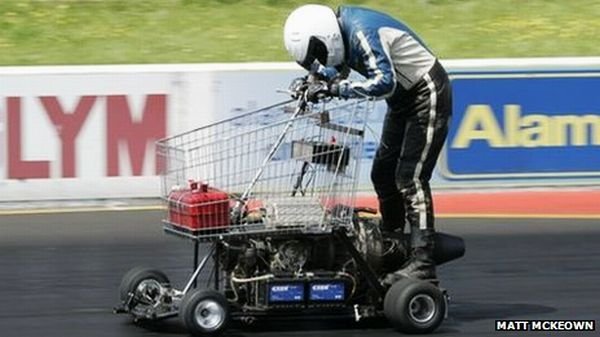 Shopping trolleys are meant to safely carry your purchased goods – right? Wrong! Apparently, they are also meant to break speed records, as proven by Matt McKeown, a 52-year old Britisher from Plymouth.
He went to on travel at an exhilarating velocity of 44mph (70km/h) on his personal shopping trolley, which had been 'modified' by incorporating a full fledged jet engine. But, worry not; the mad endeavor was not carried out in a crowded shopping mall. Rather the speed run took place at Santa Pod Raceway in Bedfordshire, where it broke the previous world record of 42mph (though it is still unofficial).
Our eccentric designer tinkered with numerous features and improvements over his trolley to reach a designated speed of whopping 60mph (96km/h). One of these included the salvaging of an authentic Chinook helicopter engine, which was further adjusted before being integrated onto the shop cart.
The designer also wanted to solve the stability issue of a fast-travelling shopping trolley by using go-kart wheels. So, at the of the day, the contraption according to Matt McKeown is – '…a kind of go-kart-shopping-trolley-helicopter-engine all in one.'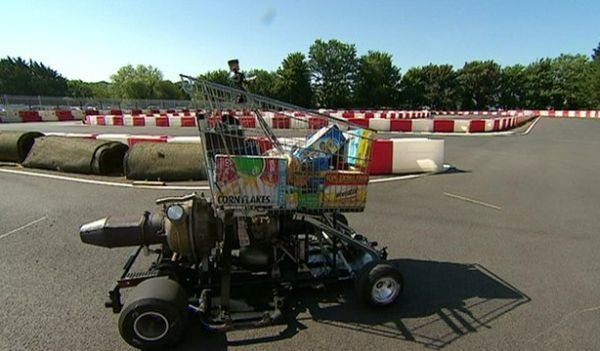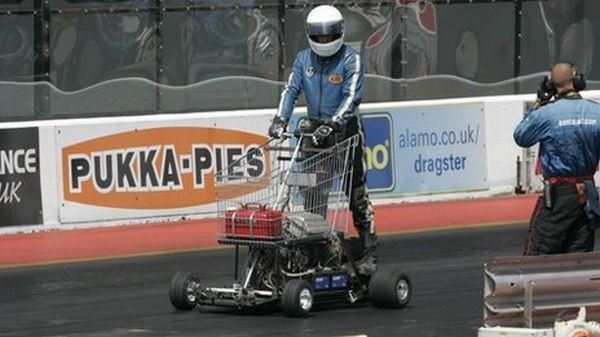 Via: BBC