There was once a time when a man was very grieve-stricken with his young wife's passing away. As a result, he undertook an imposing yet romantic endeavor to construct a magnificent mausoleum, which would stand as a wondrous testament to their love.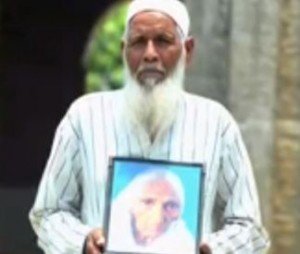 That man was Shah Jahan, the fifth emperor of the fabled Mughal Dynasty in 1631 (and easily one of the richest people on the face of the earth), while the mausoleum is what we know as the exalted Taj Mahal. And, now fast forwarding to 2013, we have come across yet another fascinating case of an Indian man (Faizul Hasan Kadari) who being deeply hurt by his soul mate's passing away, has decided to built a replica of the great Taj Mahal.
However, the remarkable difference during this time is that 77-year old Faizul Hasan Kadari is a retired post master, who surely doesn't have a fraction of the riches and wealth that the Mughals were known for.
Faizul Hasan Kadari's beloved wife Tajammuli Begum passed away in 2011. On her dying bed, she confessed to her husband that they would be forgotten over time as the couple had no children to carry forth their family line. But Faizul Hasan Kadari promised to his wife that he will uphold her legacy by taking the route of Shah Jahan and building a grandiose mausoleum. And thus, he embarked on a heartrending yet inspiring project that would replicate the nigh inimitable Taj Mahal.
In the starting, the local construction workers involved in the project were actually taken to Agra to have a clear idea about the original Taj Mahal's form. Finally, the structure took shape on a 5,000-square-feet of land near his house in Bulandshahr. The construction was of course done by eschewing all of the intricate calligraphy and exquisite craftsmanship found in the famous mausoleum.
In spite of that, Faizul Hasan Kadari had to sell his land and his wife's jewels, and finally had to use all the savings from his pension – a compelling decision made easier by the fact that he has no children.
As of now, the 900,000 rupees ($15,000) construction is still continuing (we can see the unadorned form of the Taj Mahal replica in the images). And, as for Faizul Hasan Kadari, his ultimate aim is to somehow finish the poignant project; while hoping to be buried next to his wife, just like Shah Jahan did almost 400 years before him.
Via: OddityCentral