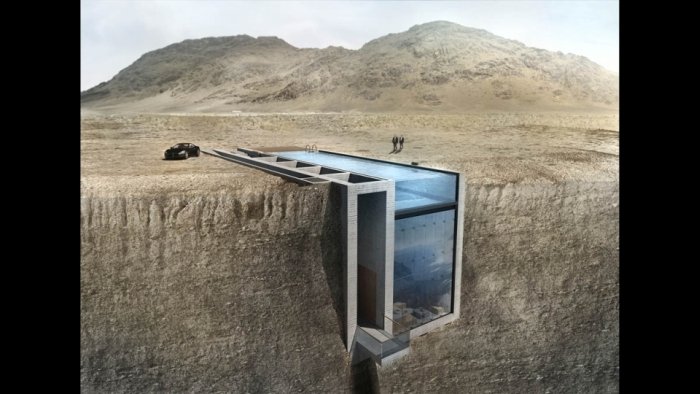 Casa Brutale, a unique and interesting architecture built inside an edge of the cliff, is a conceptual house visioned by OPA. The design is determined by the Greek designer duo Laertis Antonios Ando Vassiliou and Pantelis Kampouropoulos. Thy wanted to pay homage to the Brutalism architecture, which is a perfect blend of simplicity and harmony among the contemporary architecture.
According to the designers, the house is a melodious co-existence between human and nature, which gives reverence to Brutalism architecture. The home is built using simple and easy available material like wood, glass and raw concrete, with a special emphasis on the beauty of the landscape and the Aegean sea. The complete structure penetrates inside the cliff, nothing extends above the surface. The roof of the house is actually a crystalline swimming pool that allows abundance of natural light to prevail inside the house.
The three sides of Casa Brutale are made from thick concrete slabs, whereas, the glass facade frames provide the mystic view of the sea. The house supports minimalist design to bring out the best of the house. The Casa Brutale is indeed an interesting way of living by huge ocean waves, only if it ever emerges out of the conceptual stage.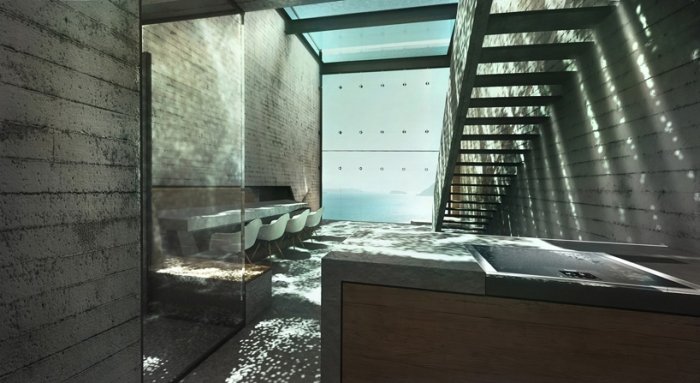 Via: DesignBoom