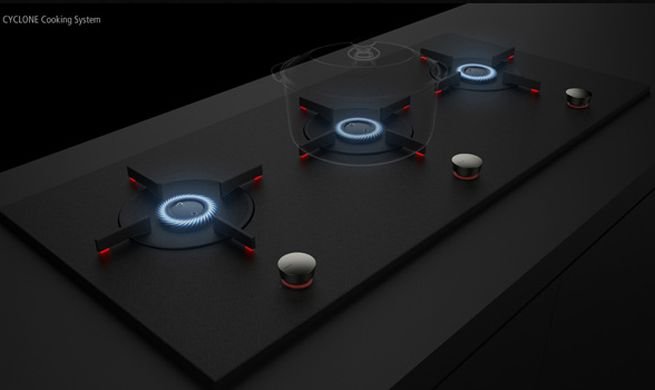 If you ever imagined how cook-tops and burners will look in the near future, the Cyclone Cooking System might come somewhere near your reverie's mark. Incorporating a host of high-tech features along with some svelte aesthetics, the conceptualization (by Serdal Korkut Avci and Ali Ihsan Incukur) is already a Red Dot Award winner.
The cultivated essence of the Cyclone Cooking System is matched up by its sleek working attributes. For example, once you turn on the knobs, automated indicator lights illuminate the 'control panel', thus indicating the activation of the system.
In fact, lighting components form an intrinsic part of this contemporary design scope. Their purpose however is not just limited to the stylish ambiance. As we can see from the top image, LEDs subtly highlight the stoppers (made from translucent silicon). Interestingly, the intensity of these LEDs are synced with the magnitude of power consumed by the burners.
As a result, a full power consuming burner will make the LEDs glow with greater luminance, while a low power consuming burner will entail a tepid LED glow. Moreover, if spills from the cooking pot come in contact with the burner flame, the LEDs will showcase a blinking mode. This will also be accompanied by a beeping sound for alerting the user.
The user oriented features further extend to the design considerations of the Cyclone Cooking System. In this regard, the elegant contraption incorporates a concave base plate for collection of spilled liquid, which in turns makes cleaning easier.
Finally, there is a certain degree of flexibility to the whole Cyclone Cooking System. This 'collective' nature is exemplified by the wide varieties of materials (like stainless steel and cast iron) that can be used for crafting the burner plate and other related components. The burner capping designs can also be varied in their working scope, with different types of flame producing mechanisms.
Via: YankoDesign