A gift item that is made by yourself tends to convey a more intimate force for the recipient. But what if there was a bit of technology added to this friendly ambit? Well, Instructables user 'TechKiwi' can gone beyond the scope of those simple 'art and crafts' stuff, to design the utterly 'giftable' Word Clock, which comes with its groovy Arduino and LED credentials.
Our resourceful DIYer started out by salvaging the right enclosure for his nifty homemade contraption. He chose a ready-made clock with an aperture dimension of at least 5-inches x 5-inches, and then had the entire thing disassembled (along with the internal clock) – to make use of just the enclosure.
As for the electronic stuff, he made use of Arduino MEGA 2560 (single-board microcontroller), an Arduino Shield Board (for expanding the controller's capability), resistors, LEDs, PCB mounted 'push button', and a real-time clock (for the main purpose of the DIY design).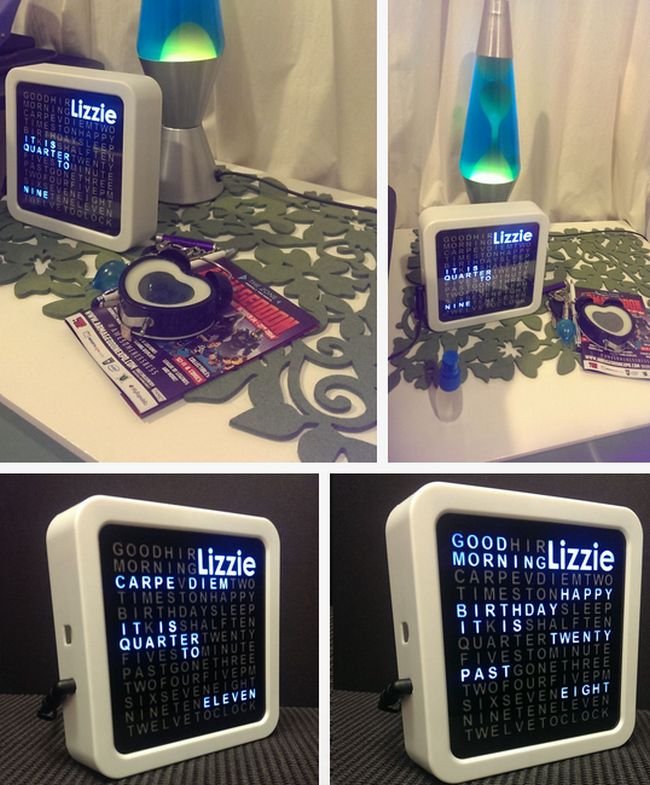 The next step involved the making of the LED display board that was crafted from a cut-out cardboard and an LED grid. Finally, the DIYer successfully mounted the LEDs, and then connected all the components, which included – the Arduino PCB, the Shield, Button PCB and real-time clock PCB.
The ultimate result was a bantam bedside Word Clock that is not only capable of displaying the name of the user, but also various customized messages, like Happy Birthday and Good Morning (we are still not sure of the 'Valar Morghulis' bit). So, in case you are interested, do check out the easy-to-follow yet detailed procedure at Instructables.