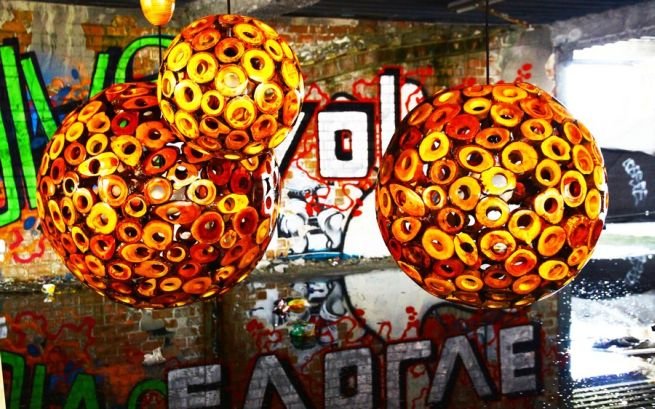 It is not often that we come across the scope of exhaustion contributing to the ambit of creativity. But that is exactly the case with the above pictured Eden Lamp, a gloriously 'green' reaction to large scale wastage of wood. Diligently handcrafted by the team at Sebastiaan Dillmann's design studio, the entire contrivance was made from natural waste found in the countryside woods of Netherlands.
The Froot Loop-like ring shapes of the Eden Lamp's round facade were achieved by cutting unprocessed branches into small slices. Theses slices were then hollowed-out and then attached together to form a perforated globular shape. So in essence, these perforations allow apt diffusion of light through the lampshade, while also endowing the fixture with a unique visual appeal.
However, the 'effect' of the Eden Lamp is not just limited to its physical attributes. There is also a certain symbolic side to the whole affair, especially with the studio's design statement pertaining to the use of just naturally wasted materials. This is in stark contrast to the high level of artificially generated wastage that is blatantly underutilized by larger companies and contemporary consumers.
So, at the end of the day, the project is not just another artistic reaction to our seemingly decadent lifestyles. Rather the lamp is conceived as a 'designed reaction' to the sheer magnitude of modern consumer-oriented wastage.
Via: Freshome