A guesthouse built out of an airplane. Sounds a bit too eccentric? Well maybe, but it sure looks like a lot of fun. At 76, Toshikazu Tsukii has accomplished much more than many of his contemporaries.  He has been a Principal Engineering Fellow at Raytheon Missile Systems for the last 41 years. He is licensed as a commercial pilot and also a flight instructor. He is one of only 3000 monocular pilots in the U.S. His latest feat, however, is a two-storied, two-bedroom guesthouse built almost entirely with salvaged airplane parts.
Toshikazu and his wife, Doris are residents of the La Cholla Airpark in Oro Valley, Arizona, where all the 91 houses border a landing airstrip available exclusively for the residents. So technically, this architectural masterpiece is located right in their 'backyard'. Completed this December, it has taken Tsukii four long years to finally materialize his dream.
A dilapidated nose cone of a Boeing 737, lying in a scrap metal yard near the Davis-Monthan Air Force Base , is what got him inspired in the first place. Structurally, this guesthouse is fashioned out of a combo of three airplane bodies: the nose cone of the 737, the tail end of a 727 and the fuselage (cabin section) of two 707s.
To maximize the floor space, he cut the fuselage of one 707 into half and spread it out. He then placed the body of the second 707 on top of the divided sections. Four rows of aircraft windows facilitate optimal natural lighting. This climate-controlled guesthouse, with its highly imaginative and efficient design, is indeed ample evidence of Tsukii's architectural prowess.
It features two bedrooms, and an indoor pool covered with the fuselage of a 747 jumbo jet. The interior is furnished mostly with original aircrafts parts. This includes first-class airline seats, glass-topped tables retrieved from the engine cowling of DC-9 and the wheel of a B-57. Wing flaps have been used as counters and dividers.
Although the Oro Valley building inspectors were initially skeptical of the unusual architecture of this aeroplane guesthouse, Tsukki's elaborate and intelligent engineering designs finally won the day. Neighbors  believe that this guesthouse will prove to be a valuable addition to the La Cholla Airpark, and will be perfect for holding meetings and other gatherings.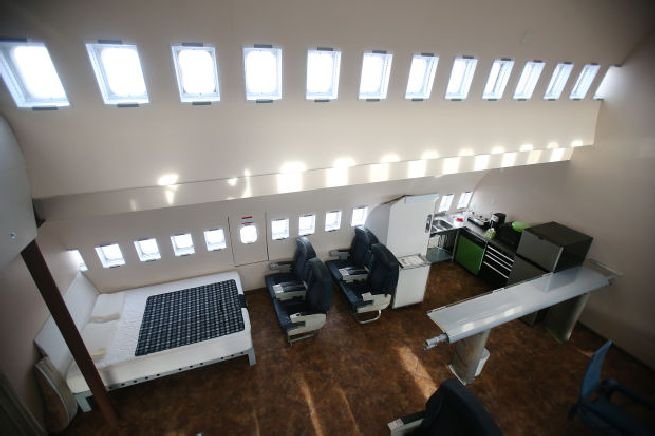 Via Azstarnet