When it comes to the realm of liquors, nothing holds a candle to the sheer elegance and class of the wine family. Following this time proven edict, the Galaxy champagne bucket aptly sticks by the dictum of 'if you have 'em, flaunt 'em'. And what's more: the conception is also totally self refrigerated, thus improving upon its degree of functionality.
Designed by Dragotta Design Studio for Cantina Arredo, the champagne bucket exhibits a 360 degree perspective, along with its rotating mechanism. This design consideration according to its creator was intentionally put forth to 'glorify' the wine bottles. The slightly slanting, all round view put the labels at an ideal position for your jealous neighbor to gawk at. This is furthermore complimented by an exquisite matt black finish of the bottle holder, thus lending more credence to the overall classiness.
However, the Galaxy is not only about mere show, but also about functionality. For example, one could keep four bottles cool at a time on the holder, made possible by the removable ice packs placed inside. The individual compartments have their own spatial nooks for collecting the water from condensation of the ice pack, thus shielding the bottles from getting weight at their bottoms. And, since we are talking about bottles, their extendable support grips have also been strengthened to avoid slipping along the glass facades. Finally, the material used for the design is ABS, a lightweight thermoplastic component with conveniently sturdy features.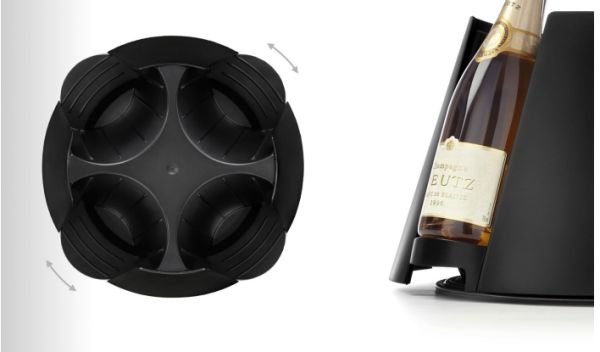 All images are courtesy of Dragotta Design Studio
Via: Coroflot