Many a time we have harped about the multi-purpose value of a furniture design. In this regard, nothing beats the innovative nature of the Clockwork Joinery. Ingeniously conceived by designer David Hashimoto, the conception entails a special kind of movable furniture that slides along a two-threaded column system extending from the floor to the ceiling.
Inspired by the 'clockwork' efficiency of antique clocks, the design according to its creator is the interpretation of that classy, antediluvian charm of early era gear systems. However, beyond the point of influence, it is the sheer degree of functionality of this furniture that really tickles our fancy.
The working of the furniture 'device' is managed by a disk and gear system. In fact, the central disc is connected to the two geared nuts fixed along the columns. On rotating this central disc, a resultant mechanical force is created, which in turn allows the vertical movement of the furniture unit along the columns. So, in simpler terms, the furniture can be moved to any height of the room, thus corresponding to its core utility (look at the images). For example, if the furniture is kept at a low ground level, it can be utilized as a bench. If it is slightly raised from the ground level, then it can be used as a counter or even a desk. Finally, if it is raised to ceiling level, the furniture would pose as an unobtrusively functional bookshelf.
The designer has also gave much thought to the visual aspect of this wondrous scope. According to him, all the gear components have been kept exposed intentionally to convey a clear cut sense of the furniture's working to the user. Furthermore, the conspicuous material used for the conception is wood, which sort of endows that rare effect of quaintness.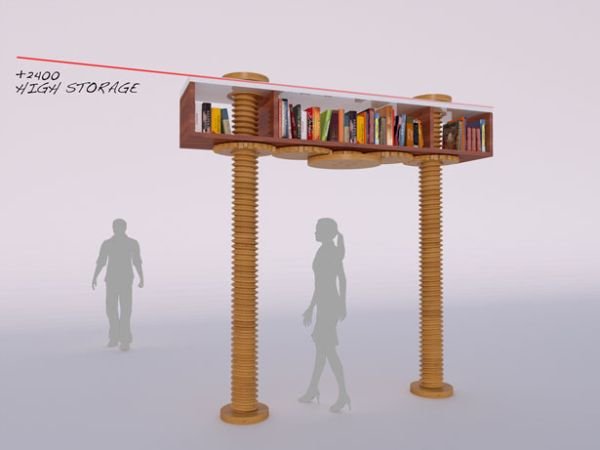 Via: DavidHashimoto/Tuvie