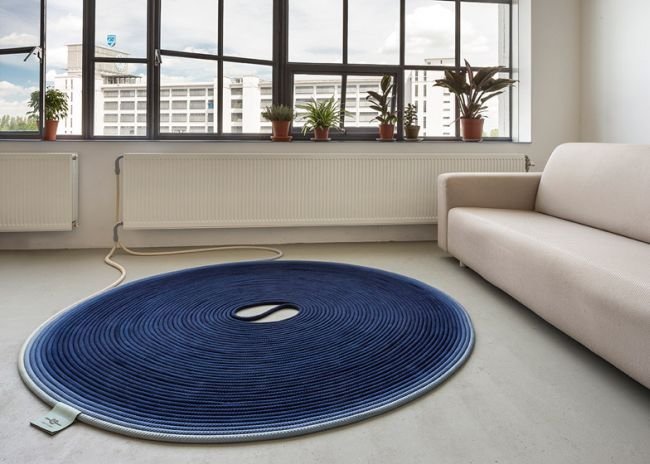 Inclusive designs shouldn't always be determined by highfalutin symbolism – they should also show their side of practicality and innovation. Dutch studio Siem & Pabon certainly believes in such a conscientious dictum, as is evident from their ingeniously designed Fervent Carpet. Shaped like a snugly coiled rope, the advanced rug has the incredible capacity to get heated up, so that it can kill off dust mites via high temperature.
The Fervent Carpet was based on a research conducted by the designers on the effects of conventional textile products on a domestic environment, and how asthmatic people are left out of this commercial equation. This is what the studio founders had to say about the unfortunate state-of-affairs currently applicable in the furniture sector –
Pillows, curtains, upholstery, mattresses and carpets all add to the emotional value of the home. But people who suffer from asthma have a problem with textiles. Should their homes stay cold and impersonal? During our research we came across an asthmatic person. Because of his disease he is not able to use textiles like rugs, couches and curtains so his house felt very impersonal and unsociable. We found it challenging to give him back textiles, so he also would be able to make it homey and cozy for himself without having allergic reactions all the time.
However, the designers did find a solution to the predicament, and it was in the form of a coiled rug that can be connected to a familiar heating device, like a radiator. The heating scope works through the outer spirals of the rug, as these are actually pipes that are safely coated in rubber. To that end, the pipes connect the rug with the heat source (via integrated hydraulic plugs) – which allows warm water to circulate through the inner lining of the piping system.
Users can opt for temperatures of up to 60 degrees Celsius, while the heating (and killing) process can repeated in every two months, which effectively gets rid of the bothersome dust mites. And, when the pipes are not in use, they can be joined to form a waterproof loop, by virtue of the hydraulic connections.
Finally, as for the aesthetic side of affairs, the Fervent Carpet was primarily designed in two color schemes – royal blue and light green. In both hues, the essence of gradual vibrancy is maintained with the light shades along the edge giving way to the original tone in the middle of the rug. And in case you are interested, the carpet will be showcased at the Dutch Design Week, starting from tomorrow.
Via: Dezeen