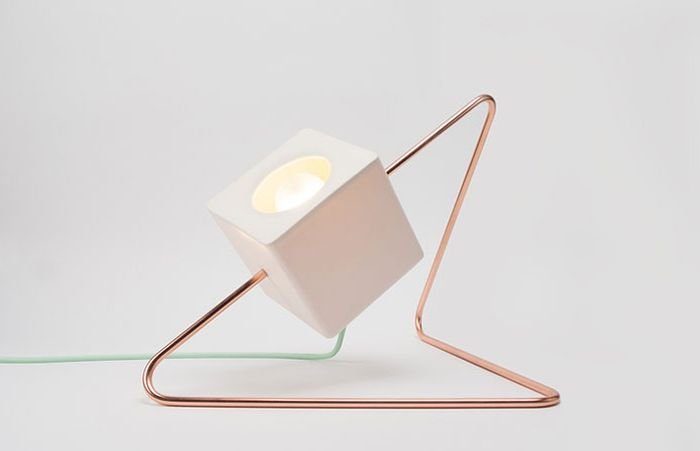 The concept of the Focal Point Lamp is pretty exceptional, it's a porcelain cube swiveling around a copper pipe. The copper pipe is the stand of the porcelain cube, which houses a LED bulb and a cloth covered wire leads to the power source. The copper stand is neither a square nor a rectangle, but seems like a combination of triangles and yet it has four corners. All four corners of the stand are smoothly rounded.
According to the Montreal based Canadian designer Chifen, the brain behind the design, the lamp is designed in such a way that it can be kept in different positions to suit the user's mood. "The Focal Point radiates the essence of lighting with a twist!" says Chifen.
A LED bulb, though not included with the lamp, in the center of the cube can be of maximum 10W power. The cloth covered power cord of the lamp is available in mint green or black color and is 15' in length. Measuring 15 ¾ x 12 ¾ x 16 ⅜" (WDH) in dimensions, the Focal Point Lamp is completely cUL certified.
Designed to enhance the aesthetic appeal of the user's home or office, this stylish, contemporary lamp is also functional in use. The conventional products become monotonous over a period and a new concept is required to revive the consumer interest. The human mind has an infinite capacity to develop new concepts and materialize them into some aesthetic and functional products. Designers like Chifen keep working on the mundane objects and come up with brilliant ideas like the Focal Point Lamp.
The Focal Point Lamp has bagged "The Best Prototype Award" at the IDS in 2014. The IDS is the largest interior design show in Canada.
Via: Mocoloco