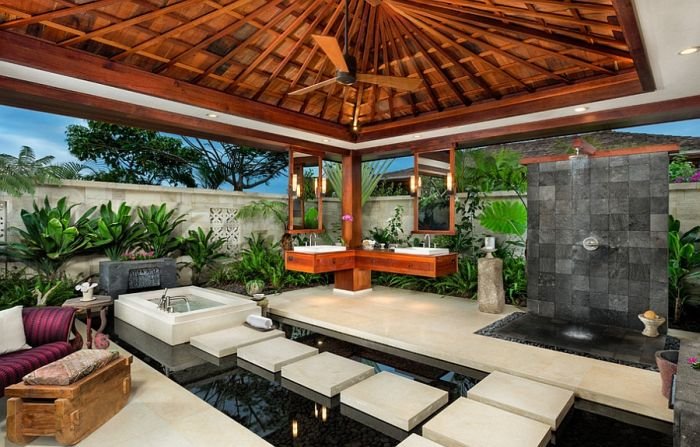 Your bathroom is the only space where you can be alone with your thoughts at the end of the day. It offers true respite from the chaos of the outside world. Spas also offer relaxation and help one in feeling good. It is not always possible to visit spas but you can build a spa inside your home too. You can enhance the beauty and relaxing capacity of your bathroom by giving it a brand new spa look. For this, you do not have to spend huge sums of money. There are some easy tricks of transforming your bathroom and lifting its décor to match that of a spa. In the following, you will find a list of tips and methods for making your bathrooms resemble a spa.
1. Start by painting the walls:
Painting the interior of the bathroom will give it a fresh look. Choose colors that soothe the eyes and calm the mind so that your bathroom looks like a spa. The interiors of spas are always colored in soothing natural colors like browns, greens and grays. If your bathroom is too small then you can also use colors like beige, eggshell white and pale green. This will make the bathroom look more spacious. Also, use natural materials inside the bathroom like wood, stone and bamboo.
2. Dim the lights:
The spas calm our mind because they have a relaxing ambience. For recreating the same ambience, you will have to install dimmer lights in your bathroom. Wall scones and recessed lighting are two good choices for you. Install a dimmer if you feel that you can take care of all the complicated electrical circuits and wiring problems. Novice DIY lovers should take the help and advice of professionals.
3. Make it cozy and neat:
There should be sufficient storage options in your bathroom but they should not get in your way while you and your family members are trying to relax. So, get storage units like wall cabinets that are not too high and a compact vanity unit. Big fluffy towels in a light shade along with aromatic candles and lovely scents that soothe your senses can make the bathroom even more appealing. Buy Epsom salts and essential oils for making the bathing experience more satisfying and enriching. You can also get 40 inches to 70 inches towels that are soft and fluffy for that luxurious spa feel.
4. Choose materials with care:
You can use stones or wood panels for accentuating one of the walls of your bathroom. The natural texture of wood and stone can make your bathroom look more like a real spa. Pebbled tiled floors are also in vogue these days but they can be costly. Try faux wood tiles that do not damage easily by water spills, which are a common occurrence inside the bathrooms. While choosing materials you will also have to be careful about the cost. First, draw a budget and make sure that you are ready to bear the expenses of the change. Then do research and get quotes. Compare prices of material and choose a store or dealer who gives you the best rates.
5. The style of the vanity:
To give your bathroom the look of a spa you may have to buy a new vanity unit. In modern apartments, the bathrooms are usually smaller. As a result, a big vanity will make your bathroom space look more cramped and crowded. Buy a vanity which floats means does not touch the ground this will make your bathroom look more spacious. Open vanity units look good inside urban bathrooms too but make sure that you use it only for storing things neatly. Sleek hanging lights give illumination without crowding the space. Do not use chandeliers as they might make the ceiling seem to be lower.
6. Go snow white:
White tiles on the walls and white marbles on the floor will make your bathroom look like a luxury spa. Accentuate the beauty of white with some wood items like a small seat and bamboo flower vases. Glass goes well with white walls and floors. Clear glass makes a small bathroom look bigger than it is.
7. Install a tub for deep soaking:
These days the bathtub manufacturers are offering some cost effective models that easily fit inside a moderately spacious bathroom. If you have a big enough bathroom and are ready to splurge, then do install a sleek and simple deep soaking tub. It will help you unwind and relax whenever you please. If your bathroom is too small, then chuck the idea of installing a bathtub and get a massage showerhead. The massage shower heads will not take up extra space yet be useful everyday.