Maison Valentina excel in the luxury bathroom designs and take pride in offering luxury and comfort to their clients with their bold and unique designs that are designed to perfection. One such recent addition to the exclusive range of luxury bathroom fittings from Maison Valentina is the KOI bathtub. The extraordinary bathtub by the Portuguese brand features an ornate design that you will certainly fall for.
The KOI bathtub has taken inspiration from one recurring Japanese symbol – the KOI carp, which has supreme decorative purposes in water gardens, tattoos and in the Irezumi practice. KOI is a Japanese word that means love and friendship. The color changing properties of KOI represent its adjusting nature that designers have tried to bring in the KOI bathtub as well.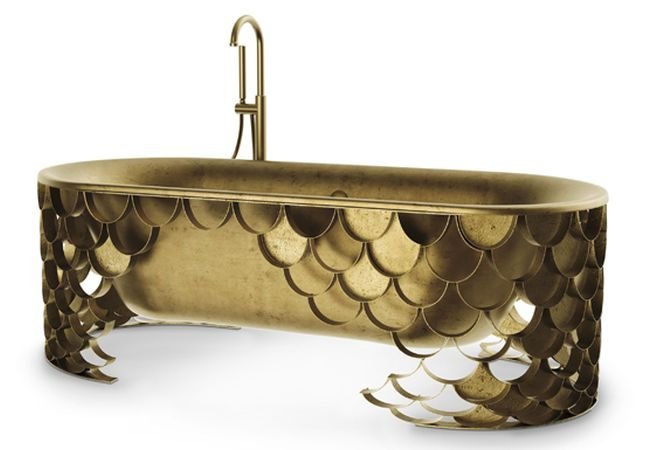 The base of this bathtub is made of brushed brass and the bathtub is made of aged brushed iron. With a height of 60cm, depth 75cm and width of 180cm, the KOI bathtub seems to be a true addition to any luxurious bathroom. The opaque and transparent patterns made of brass scales on the bathtub look amazing, as they add a beautiful and elegant ornate touch to it.
Maison Valentina is a renowned brand in the luxury bathroom fittings. A name trusted for some outstanding and unimaginable ornate designs that can add beauty and elegance to the bathroom. Their high-end design solutions from Maison Valentina like bathtubs, mirrors, washbasins, case goods and lighting are truly world class and a perfect combination of rare hand techniques and contemporary design.
Yet another thing that designs from the house of Maison Valentina manage to take the world by storm is its peculiar selection of materials. They make their designs with brass, wood, glass, and marble, and turn them into such beautiful shapes with their hands.
Source: Maisonvalentina