Gone are the days when the kitchen was considered as an area of the house designated for cooking alone. The more recent home interior trends aim to include the kitchen as a main part of the house by transforming it into a multipurpose hub fit for cooking, dining, conversations, social gatherings, parties and other festivities. Here are the top revitalizing kitchen trends to look out for:
1. Bold Color Choices:
While the olden day kitchens preferred light colored walls and fittings, the contemporary kitchens require something more lively and striking. We have already seen many modern kitchens adopting the bold color theme in different ways. Achieving a contrasting look with bodacious color combinations in the kitchen is easy. It allows you to play with a variety of colors and patterns and get an aesthetic look that is modernistic as well.
2. Striking Wallpapers:
This interesting design trend has been making waves in 2015. Many homeowners are ditching the paint and opting for striking wallpaper designs to decorate their kitchen. Even a small piece of wallpaper can offer great visual depth and impact to the cooking space. Another highlight of using wallpaper is that it can help you complement other architectural elements inside the kitchen beautifully.
3. Colorful Splashbacks:
The year 2015 has witnessed an increase in the number of kitchens ditching the standard monochromatic splashback. For more and more kitchens are opting for interesting designs to offer a sense of excitement and edge to the cooking space. Instead of standard bland tiles, look for tiles featuring interesting patterns in bold colors. Exotic designs are a hit in the market right now, so consider choosing a similar design for your kitchen splashback as well.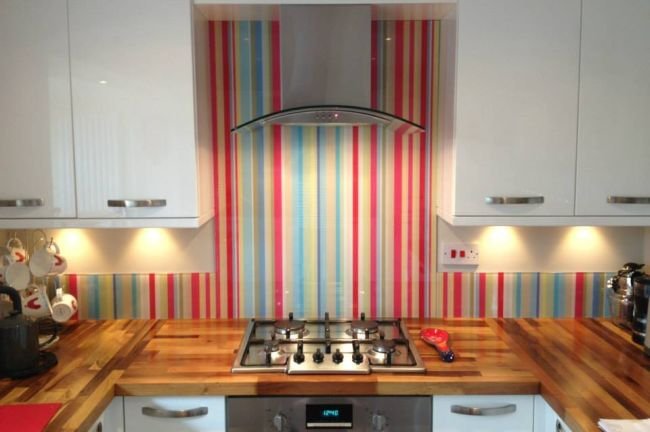 4. Porcelain Flooring:
Contemporary kitchens have started adapting interesting flooring choices like the use of porcelain to highlight certain areas or the kitchen these days. Extremely versatile and easy on the budget, porcelain is available in a myriad of colors, textures and patterns, thus allowing you to choose from hundreds of striking choices for your kitchen floor.
5. Attractive Sconce Lightings:
Instead of standard overhead lights used in traditional cooking spaces, modern kitchens are opting for attractive lighting options. Sconce lighting options have started making appearances in many kitchens that offer you a wide range of arresting designs and patterns. Directional sconce lighting would also be making an entry into the market in 2015, so watch out for this trend as well.
6. Compact and Impactful Corner Sinks:
Sinks usually take up a large area of the countertop. However, modern kitchens aim to save this space by moving the sink to the corner and use it for other significant purposes. People rarely use corners in the kitchen. Hence, this refreshing idea of moving the sink to the corner of the room (although it remains a part of the countertop) is widely being adopted by small, contemporary kitchens.
7. Vertical Storage Drawers:
Small kitchens are increasingly looking towards alternate storage solutions to store utensils and accessories neatly and elegantly. As such, 2015 has seen an increase in vertical storage options in a number of kitchens. These vertical storage solutions, in the form of tall cupboards and cabinets, aim to make use of the otherwise wasted spaces of the kitchen. These spaces become ideal storage location, for even hard to store items like spices, in the kitchen.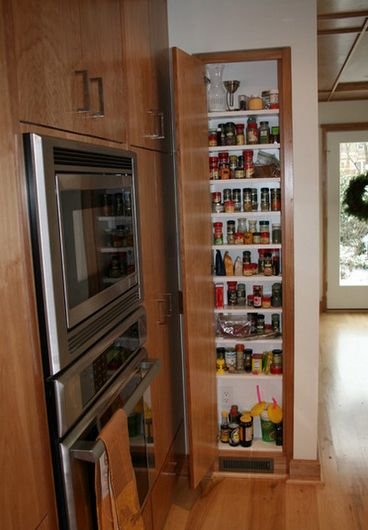 8. Open Shelves:
Modern day kitchens are coming forward to display what they have proudly, rather than hiding them behind closed doors. Open shelves are now a staple in many kitchens that serve as the perfect places to display all those beautiful dishware collected over the years.  Open shelving is also the best option for small kitchens, which appear more crowded with closed cabinets. Therefore, we can see many kitchens adopting this trend.
9. Multipurpose Kitchen Islands:
Kitchen islands have long graduated from being spaces to chop vegetables and mix ingredients to multipurpose hubs that can do much more. Modern kitchens these days have started using kitchen islands as dining areas, bars and even built in refrigerators. This is definitely one kitchen trend that will take off for sure in the time to come.
10. Alluring Ceilings:
Homeowners rarely pay attention to the ceiling of their kitchen. Nowadays, we see an interesting trend of sorts wherein many kitchens have started transforming their otherwise boring ceilings into works of art. While a simple paint job in bold colors would offer a magnificent transformation in itself, people are giving more emphasis on advanced features like the shape, patterns, textures, materials and even embellishments. All these design features would surely make the kitchen in your home a place to look up to for sure.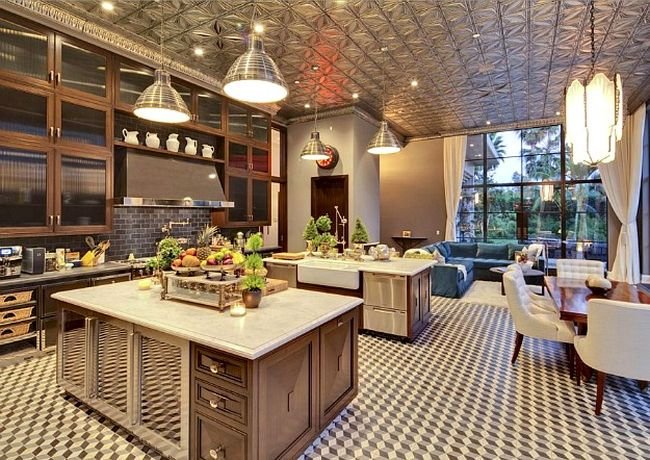 Summary:
Kitchens have long changed from being mere cooking spaces to multipurpose hubs that can play host to a number of activities. This surely entails the kitchen to look stylish and modernistic like the rest of the house. From alluring ceiling designs, wallpapered surroundings and sconce lightings to vertical storage solutions and open shelves, these kitchen trends are set to rock.