It's summer time, which means most of your time will be spent outside in the backyard, showing off your grill master skills. No matter how efficient grill master you are, somehow you cannot bring the same steakhouse quality to your home cooking. But that's about to change with the latest over-fired broiler (O.F.B.) by Otto Wilde Grillers.
Most steakhouses cook meat by broiling technique, and this is the reason why their meat tastes the best. A perfectly tasting meat needs to be cooked at right temperatures and also using infrared radiation for faster and better grilled taste. Otto's Over-Fired Broiler works on similar cooking techniques for delicious and brilliantly cooked steaks.
It is equipped with two separate adjustable infrared gas units, which are height-adjustable to accommodate even largest steaks with ease. The appliance can reach up to 90-degree Celsius/1700-Fahrenheit, providing perfect operating temperature within few minutes. Once the appliance has reached at perfect broiling temperature, you can place your steaks inside to broil in just one minute per side.
At such high temperature, both sides of steaks will be cooked, but evenly due to even heat distribution. Moreover, a finely crispy layer of crust will be formed on both sides. Delicious juices of steaks will remain locked inside the crusty layers, keeping the inner portion moist and soft for chewing.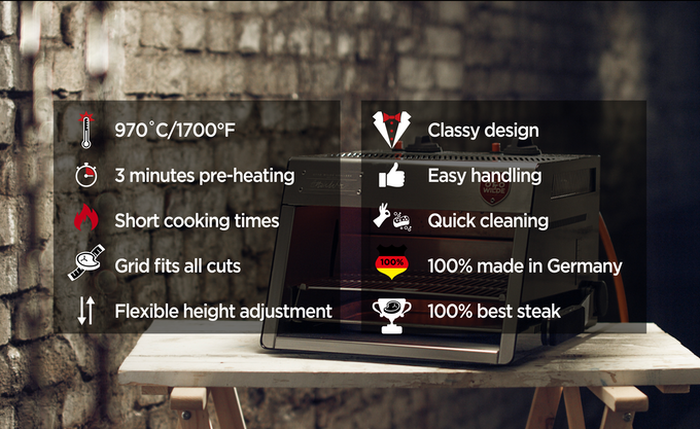 The project is seeking funds on Kickstarter to get into production phase. A pledge of €720 (approx. US 808) will secure one premium grill for you, with expected shipping by July 2016. However, homeowners living by stateside will have to wait until October 2016 for their shipment to be delivered.
Via: Ohgizmo