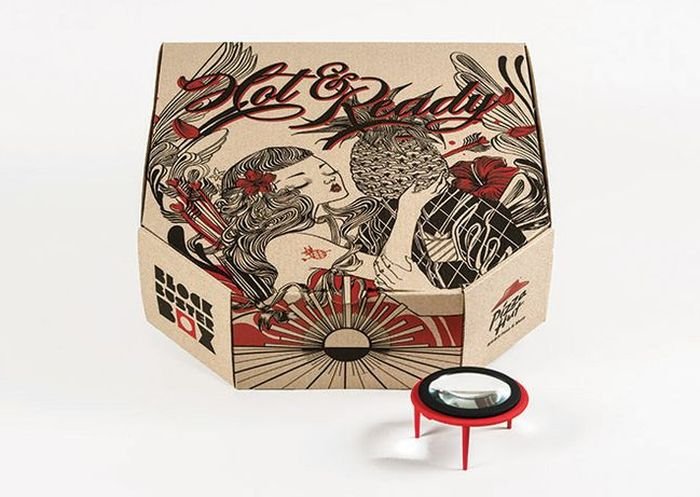 Pizza Hut has been delivering cheezylicious, mouth-watering pizzas at your doorsteps to make your parties all the more enjoyable since its inception. However, now it has come up with an astounding concept that is going to add pure fun and entertainment to your pizza parties at home. As of now, Hong Kong is the only place where this super fabulous and exciting idea – the Pizza box that turns into a pseudo movie projector – is hitting. How cool is this.
Ogilvy Hong Kong has designed this special and truly ultimate design, usual pizza boxes but with a perforated pop-out opening on the side. The unique pizza table, known as the pizza protector, serves as the projector's lens. To make pizza box projector function, you need place a Smartphone inside the box using pizza table. Adjust the plastic lens into the hole and start your favorite movie on your Smartphone kept in the box. The pizza box projector starts displaying picture, which you play on your Smartphone, on the wall or any other surface you set its direction.
Designers of this wondrous concept believed that some things are made just for each other, just as pizza and movies are. There can be nothing better than enjoying your favorite movie with your family or friends while savoring pizza bites. To make your house party even more pleasurable, you can choose from four blockbuster boxes that offer separate movie download via a QR code. The "Slice Night" is for horror fans, "Anchovy Armageddon" for people with penchant for sci-fi movies, "Fully Loaded" for action flicks, and people interested in watching some romance must go in for the "Hot & Ready" box. You must try this wonder treat but ensure you do not spoil your Smartphone with all cheesy, greasy hands over it.
Via: Theverge