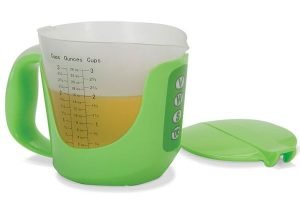 We have already discussed in Portion – Measure & Mix A Measuring Spoon that how useful these measuring appliances can be for cooking and doing any task using them where they can be helpful. Here is something from the science fiction movies, a future product that will surely make you wish to have in your kitchen. We live in the 21st century, where everything is digital, computerized and automatic. We are witnessing an era where our home appliances can even interact with us, our refrigerator, door bells, alarm clocks and even furnitures. How about a speaking Measuring Mug?
A Mug which verbally announce the quantity of any type of ingredients. This "Talking Measuring Mug" can measure ingredients in various units including milliliters, grams, ounces or in cups and also speaks in many languages. This product can really help you in kitchen specially if you are low in vision.
FEATURES:
Speaks in many languages, you can manually set the language.
It allows you to measure volume, weight and quantity.
You can program it to measure Oil, flour, water, milk and sugar.
Easy to wash and unbreakable and microwave safe.
Runs on two AAA batteries.
It's divided into three different parts:
Removable lid: The cap of the Mug. It is an ordinary lid.
Measuring cup: The Mug or the body of the product. Weight is marked on it to use it without the talking base as a normal measuring Mug in your kitchen. It is made up of good material, microwave safe and easy to wash.
Talking Base: The brain and heart of the system. It holds the mug and gives you awesome results. It should not be washed.
FUNCTIONS:
It is very accurate in functions and quite easy to use. Rather it is auto switch off but there are four buttons on it's Talking Base to control.

V- Volume: It enables you to measure in millimeter or in cups.
W- Weight: This function is to measure in grams or in ounces.
S- Density: With this, you can switch between Oil, flour, water, milk and sugar
T– Tare On/Off: It is to On/Off or Tare the function.
PRICE: $60
Measurement:
Weight: 12.6 Oz (with batteries installed)
Dimentions: 6.5″ x 4.75″ x 6″
Video: