When camping, one of the most unwieldy items in your backpack might be the cumbersome cooking pot that not only takes a lot of space but also weighs you down when trekking. The solution of course should pertain to a portable pot that also effectively does its outdoor job.
Fortunately, the X-Pot from Sea To Summit fulfills all of these criteria with its collapsible design complemented by equal measures of sturdiness and usability.
When we are talking about a 'heating scope', the base material of the related product is of crucial importance. To that end, the X-Pot exhibits its anodized aluminum credential which is further bolstered by attached layers of heat-resistant silicone. The structural ambit is accompanied by the container's collapsible nature – so, you can 'compress' it into a tray-like thickness when it is not in use.
Now, before we get too ahead of ourselves, the X-Pot obvious won't take care of your sauteing, frying and usual pan-oriented actions. Rather the product is envisioned as a boiling contraption that is tailored to heating any form of fluid (like water, coffee or tea). In practical scenarios, this means that you can easily boil around 2.8 liters of water (there is also an 1-liter model), and use it for those ready-to-eat food packs.
All of these advantages do come with a slight sacrifice, and that is the substantial 10 oz weight of the aluminum-built contraption. And, as for the commercial side of affairs, the X-Pot is expected to make its debut by March of 2015, with a retail price of around $50.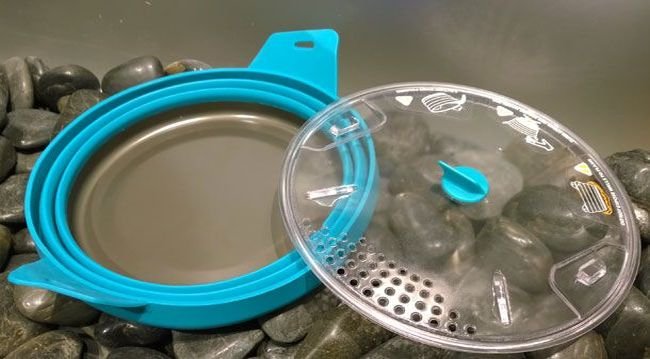 Via: GearWeAre