Yes, you are also supposed to take a rest once in a while when camping between those paradisiacal trails. And by rest, we mean a proper rest with relaxed yet posture-friendly sitting positions – which are unfortunately out of question with those beer coolers, elevated rocks and 'ever-trusty' outdoor logs.
So, this brings us to the realm of camp chairs that not only offer comfort and apt back support, but also go by the advantage of portability. In that regard, let us check out ten such top rated outdoor camp chair products that are surely bang for your bucks.
1) Picnic Time Portable Folding Sports Chair –
Crafted from durable polyester that is complemented on the comfort level by additional padding, the Portable Folding Sports Chair from Picnic Time has the capacity to hold up to 300 pounds of weight. The seating section is supported by sturdy aluminium frame and a totally adjustable shoulder strap.
All of these 'structural' credentials are accompanied by nifty storage features that include – a host of side pockets (on the right side) for keeping your personal items like phones, sunglasses, key and sunscreens; and a folding side table (on the left side) for keeping your drinks and food.
Buy – $67.
2) Coleman Oversize Quad With Cooler –
Coming with dollops of comfort and storage credentials, one can't really go wrong with the Coleman Oversize Quad. However, quite incredibly, these are not the features that makes this chair special.
Rather it is the cost factor (with a price tag reading just $30) that really makes the product a budget-sized success. And, in case you are not enticed by the pricing; the design also boasts of its very own built-in cooler (yes, you read that right!) for grabbing your favorite beer while resting.
Buy – $30.
3) Caravan Canopy Black Zero-Gravity Chair –
Ergonomic armrests – check. Adjustable yet extensive backrests – check. Long lasting nylon mesh outdoor fabric – check. And the best part is – the Black Zero-Gravity Chair is ultimately bolstered by its heavy-duty steel frame, thus making the chair perfectly usable in both outdoor and indoor conditions.
These user-oriented attributes are complemented by the weight carrying ability to goes up to at least 300 pounds.
Buy – $48.
4) Lafuma Futura Clipper XL Recliner –
Touted as the portable substitute to your ever-trusty basement chair, the 'roomy' aspect of the Clipper XL Recliner makes it a nigh perfect resting cocoon for those late-night fireside musings in the wild.
These comfy credentials are accompanied by a unique mattress-to-frame clip system that enhances the body support along the whole recliner. On top of that, the chair exhibits padded armrests, adjustable backrest and removable fabrics that are easily washable after you are done with your weekend getaway.
Buy – $210 (by far, the costliest chair in this list).
5) Hanging Rope Chair –
Some of us like to hang from air, you know! Well, the Hanging Rope Chair from Club Fun fulfills your 'suspended' desire with aplomb. Flaunting its snug yet durable fabric that blends both cotton and polyester, the contrivance has a substantial weight carrying capacity of 265 pounds.
Of course, the entire product comes with no harnessing components – and so one should make sure that he/she comes under the designated weight for a carefree yet comfortable swing from a camp site tree or from your airy home porch.
Buy – $35.
6) Parachute Silk Hammock –
If one can gleefully rest when suspended in air, so can two! And, the aptly named Parachute Silk Hammock takes care of this two-person airborne resting scope with its special 210T light and breathable nylon material that weighs less than a pound, but can carry up to 450 pounds.
In addition to that, the hammock seat boasts of both water resistance and UV protection attributes – thus making it a perfect accompaniment to any outdoor tree under the sun. The convenience ambit is finally wrapped up with its portability factor that allows the seat to be carried in an attached stuff sack.
Buy – $36.
7) Helinox Chair One Camp Chair –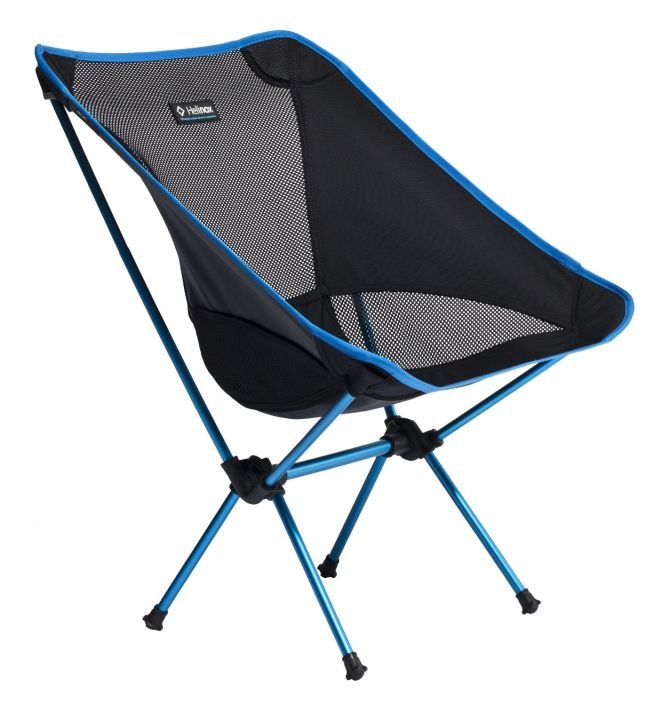 Brought to us by Big Agnes, the Helinox Chair One comes with its special aluminum pole technology, a system that also used for the structural integrity of larger tents and trekking poles.
This is accompanied by a breathable mesh seat that keeps up the ventilation even during those hot, sweltering days. And judging from many of the user reviews from Amazon, the design is very well suited to especially tall people, while also having a copious load carrying capacity of 320 pounds.
Buy – $100.
8) Kamp-Rite Chair with Detachable Ottoman –
Versatility, comfort and a detachable ottoman – this in a nutshell defines the Kamp-Rite Chair. Tailored specifically for various outdoor scenarios, the foot-rest is obviously a step up from other comparable designs.
This comfort-oriented quality is further complemented by the sturdy yet soft 600 denier polyester, a material mainly used for outdoor covers and tents. As for the chair's capacity, it can carry up to 300 pounds, along with additional smaller objects that can be kept in the side bag attached to the furniture.
Buy – $50.
9) Extra Heavy Duty Chair from ALPS Mountaineering –
We have been harping about the load carrying capacity, and nothing beats the 'Extra Heavy Duty Chair' with its whopping ability to handle up to 800 pounds. This robust features is somehow accentuated by the rugged look of the fabric (with two glass holders on both sides) that is supported on a powder-coated steel frame. Oddly enough, the entire structure is foldable and lightweight, which makes the chair easily portable in spite of its boisterous capacity.
Buy – $62.
10) Crazy Creek's HEX 2.0 –
A ground mat/camp chair, Crazy Creek's HEX 2.0 changes the game of flexibility when it comes to those awkward outdoor sleeping scenarios. The design is unique in itself, as it has no dedicated backrest with solid frame.
Rather the material comprises of EVA foam that provides rigidity to this section with its closed cell layout, while the design also opens up when unsnapped (to be transformed into a sleeping mat). And the best part arguably relates to how the product is envisioned with thermal insulation that shields you and your precious butt from the cold winter nights out in the wild.
Buy – $50.