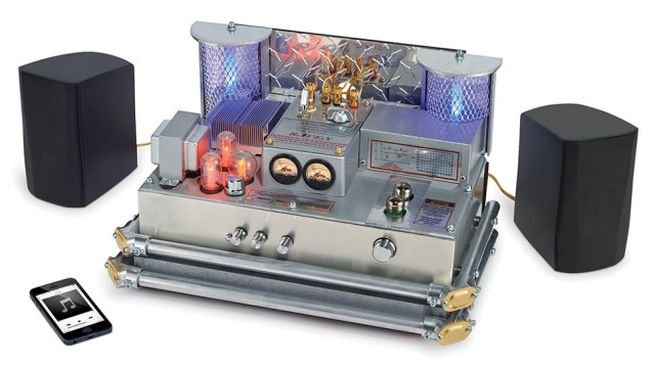 Rich, pulsating music, that makes people break out in dance, is indeed a major crowd-pleaser in a good party. In fact the traditional transistor-based amplifier is no longer the best option available in the market for hardcore audiophiles. Instead, take a look at the new Bluetooth Sound Enhancing Amplifier from Hammacher Schlemmer, that guarantees superior sound quality with minimal distortion.
This badass hybrid vacuum tube amplifier claims to produce warmer, richer and more powerful audio than normal transistors, by reducing distortion effects and creating better signal-to-noise ratio. The Bluetooth Sound Enhancing Amplifier is fitted with two 6N3 tubes that generate 20 RMS watts a channel, thereby adding more bass and clarity to digital sounds.
The wireless amplifier pairs with Bluetooth-enabled audio devices, such as iPads, iPhones, smartphones and tablets, to play music. It is equipped with a feature that allows you to play songs from multiple sources, as in Bluetooth device, 1/8″ stereo audio input or RCA inputs in the form of CD player or turntable.
There is provision to attach it to four or eight Ohm speakers via speaker cables, which are not included. This 10″H x 17 1/2″W x 10″D audio improving amplifier runs on AC power.
The Bluetooth Sound Enhancing Amplifier is currently being sold for $1800 by Hammacher Schlemmer.