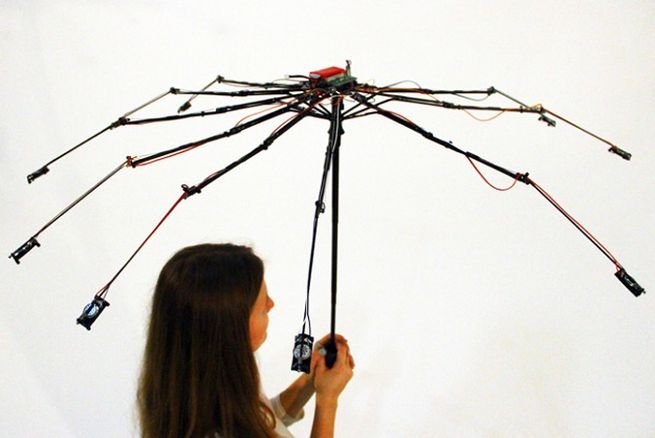 Over the past few days, we have been bombarded with various kinds of ingeniously crafted Japanese 'Gasas'. However this time around, technology takes precedence over mere practicality to result in the 'Anywhere', a remarkable umbrella design with its very own sound system.
The brainchild of artist Dmitry Morozov, the project was initially envisioned to establish how an occasionally used object can be practically integrated with a personalized music system. And, as we can make out from the images, the Anywhere umbrella aptly demonstrates this 'fusion' with its bare-bones frame comprising of 10 mini-speakers (at the end of each supporting member).
The other crucial components of the setup include – an Arduino Uno micro-controller, optical relays for sending commands from the controller, and a micro SD wav player for gleefully emanating the music. Of course, the only thing remaining is the shade, which can made from a variety of waterproof fabrics to cover the umbrella frame.
So, at the of the day, the Anywhere umbrella alludes to the long-held romantic reverie of listening music in the rain. And, while such actions can also achieved by a mobile music player and earphones, the umbrella upholds its safety factor by not isolating you from the 'outside' ambiance.
Via: PSFK