With the camping season in full flow, portable grills are the flavor of the spring time. Well, designer Jonas Rylander has done one better with his adjustable Pop Up Grill. The unique contraption boasts of a flexible volume-oriented design that can be easily assembled by the users to suit their cooking needs.
This intrinsic flexibility is derived from the detachable bottom section and mid-section of the cooking device, thus converting its function from an ordinary charcoal grille to a more specific grate fueled by campfire. This grate mechanism is credibly supported by three folding legs that are firm on most flat surfaces. In other words, the folding grill conveniently makes its transition from barbecues to more conventional cooking scenarios like frying pans and heating coffee pots.
Other advantageous features of the Pop Up Grill includes its capacity for a high burning temperature by virtue of a tough Teflon coating. More importantly, this crucial burning temperature is maintained in the outdoors by the streamlined structure of the device that facilitates better air flow.
Considering all these attributes, it doesn't really come as a surprise that Pop Up Grill was a Red Dot award winning entry in 2012. But the best part is – the outdoor cooking device has jumped from its conceptual stage to the commercial stage, with a price of around €35 ($45).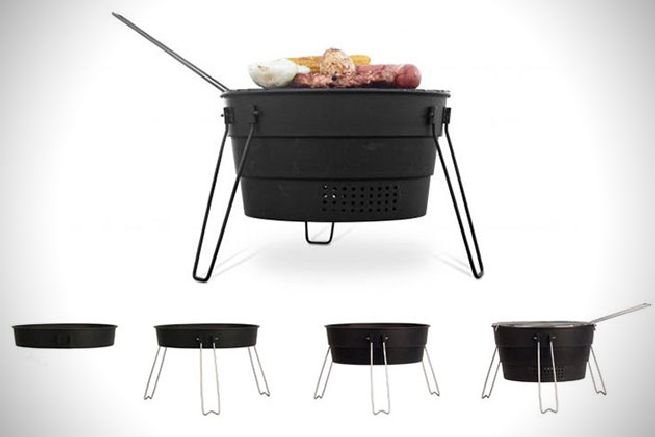 You can make your purchase from a list of these retail sites.
Via: HiConsumption