We have the seen the fascinating influence of geometry on various home-oriented objects, be it fruit bowls or sofas. And this time around, things take a more gratifyingly 'personalized' route with the Bloom Blanket. Created by Bianca Cheng Costanzo, the aesthetic ambit of the blanket designs is directly inspired by the Japanese art of origami.
In normal scenarios, most blankets are two-dimensional when perceived from a distance. However, the Bloom gives a twist to this convention with its adoption of a special three-dimensional bearing. The overall form-factor comprises of tiny triangular shapes that tepidly project out like cones. These collection of 'tetrahedrons' together make up for a 3D facade that is easily fathomable even when observed from a range.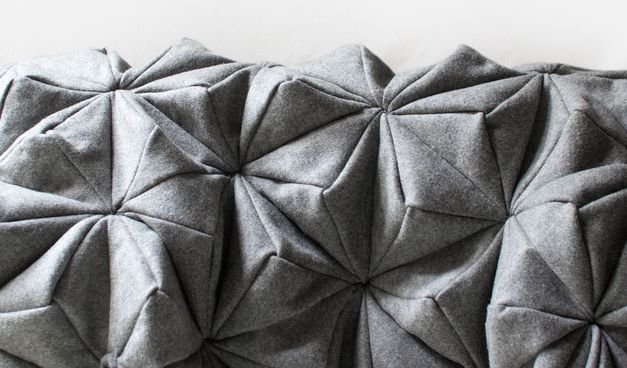 The model arrangement of tetrahedrons on the fabric was achieved with the utilization of an open source programming language known as Processing. Interestingly, this AI driven application starkly contrasts with the hand sewn credentials of the real Bloom blanket.
In fact, the designer has made her preference for high quality wool cashmere quite clear, as opposed to synthetic materials. This natural essence, according to her, equates to the softness and warmth of the blanket.
As for the commercial scheme of things, the machine and hand-washable Bloom has reached its Kickstarter goal with sheer style (a whopping $141,375 pledged of $14,050 goal, and 18 days still to go). The retail price is expected to around the $249 mark.
Via: BloomBlanket