With a front facade that gives a groovy twist to the ole checkerboard pattern with alternating squares of wood and glass, the Three by Two house (designed by Panovscott) is an apt lesson in low impact renovation for urban housing. Created as a double storied extension to a semi-detached Victorian house in Sydney's more heavily populated inner west suburb, the structure demonstrates the fascinating play of transparency and opaqueness.
The dual nature of solidity and clarity are translated to functional components within the house, with beneficial effects of light, shades and the privacy factor. For example, the kitchen is located in the lower level with direct frontage with the house garden. On the other hand, the bedroom and the en suite are designed in the rear part of the extension which also has a double height space.
So, in essence, the visual/physical contact of the kitchen with the garden also brings the inhabitants close to 'nature'. On the related scope, the rear-situated bedrooms gives the same inhabitants privacy from the outside world.
Similarly, the aforementioned checkerboard pattern of the facades have their purpose beyond just aesthetics. According to the architects, the glass squares provide the house owners with good views of the surrounding greenery of treetops and suburban landscapes. Along the same ambit, the angles of red cedar squares shield the family members from unwanted exposure.
Finally, coming to the interior of the Three by Two house, the modernist setup boasts of concrete slab flooring with apt polishing and durable sealing. However, the outstanding spatial aspect of the extension would surely be what is touted as the 'great room'. This multi-purpose kitchen/diner is inspired by the great halls of medieval kings, and is aptly bedecked with imposing ceiling-high cabinets. Things also take a sustainable route with the large storage spaces being crafted from kauri pine, which is a locally sourced wood variety.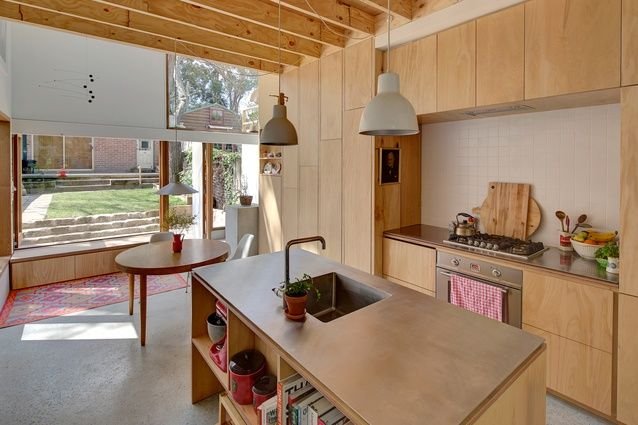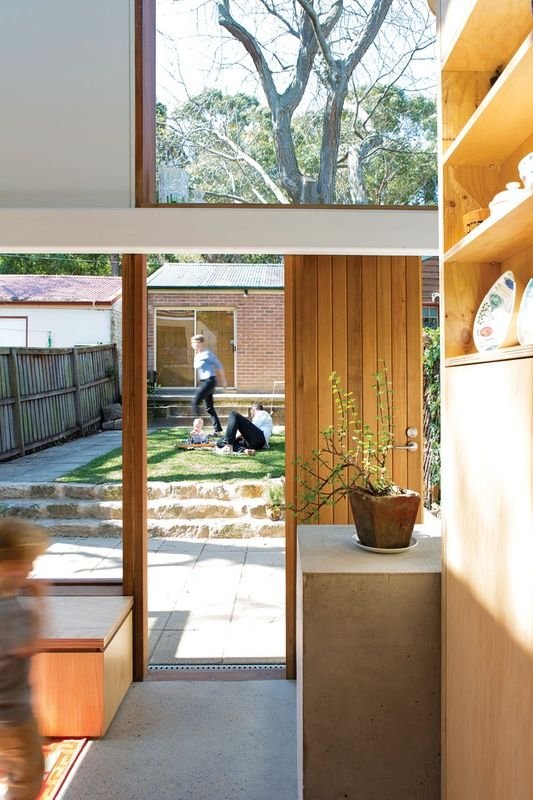 Via: ArchitectureAU