Tonic Lamp or the bitter light, as they call it, is a unique concept of lighting that is the brainchild of a German designer Gonzalez Garrido. With a great 14 years of experience in Design, Photography, Entrepreneurship and Visualization, he manages to keep coming up with some jaw dropping innovations a common mind can even think of. Tonic Lamp is one of his superb creations for which he chose to use test tubes, tonic water and UV LEDs.
His selection of raw materials is so unique and impressive that nothing can stop his creation from being an imposing masterpiece. You can see this quality of the designer in the Tonic Lamp. He used test tubes to fill tonic water in it, which contains quinine. Quinine gives a bitter flavor to the tonic water. There is one more very interesting feature of quinine that Gonzalez Garrido has used very smartly in the lamp, i.e. quinine makes tonic water glow blue when placed under black light.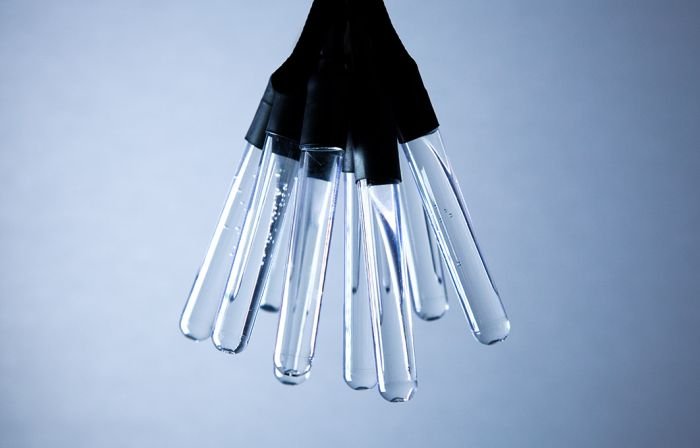 A few test tubes filled with tonic water held together make the lamp creative and impressive. Moreover, the technique used to make this lamp work is what that makes it so popular and unique. The quinine's presence in tonic water makes it worthy to be used in a lamp.
Quinine molecule's structure enables it to take energy from the indivisible ultra violet light. It takes energy from the UV light and give out some of the energy in the form of blue light. This superb technique has given such an attractive blue color to the Tonic Lamp.
Source: Gonzalezgarrido