Be it living room or bathroom, wooden accessories simply add charm and elegance to any interior. When it comes to choosing the bathtub, wooden bathtubs not just gives a rustic feel to your bathroom but also helps in sustaining the environment, as they can easily be recycled once disposed.
Wooden bathtub with its unique character stands out on its own, irrespective of the décor you choose for your bathroom. Here are some of the most elegant wooden bathtubs for modern bathrooms.
1. Baula 1 Serie Wooden Bathtub:
The Baula 1 Serie Long Bathtub from PSC Bath features a 156 cm long, oval shaped, wooden bathtub that just seems to blend in with nature seamlessly. Handmade out of wood taken from sustainable forests, the bathtub is available in maple, oak, padouk, ash and sapele variants.
Inspired from a range of Ofuro bathtubs from Japan, the Baula 1 Serie would definitely make your bathroom look cozier and more modernistic.
2. Sapele Wood Tub:
Designed by Seth Rolland, the Sapele Wood Tub (also called the Salish Sea) takes inspiration from the coastline that hugs Washington and British Columbia. Shaped just like a boat, the Salish Sea is made of more than 200 pieces of harvested Sapele wood.
Featuring an invisible fiberglass layer, the bathtub undergoes rigorous polishing with over six coats of varnish to keep the wood dry. In case you missed the overflow, you can find it within a second interior rim, while the floor-mounted faucet extends over the tub's rim. Taking a bath in this tub would definitely be a soulful experience to say the least.
3. Hard Wood Bathtub:
You may be wary about using a wooden bathtub in the bathroom, thinking the wood may rot due to prolonged water exposure. In this case, you can opt for the hard wood bathtub that allows you to enjoy the feel of a wooden bathtub without worrying about its exposure to water.
The bathtub is handcrafted from sustainable domestic as well as exotic hardwoods for a superior quality finish and natural warmth. However, the highlight of the design is the specialized clear composite barrier added to the wooden surface to prolong the bathtub's durability. We absolutely love the extra glossiness achieved in the process.

4. Shell Bathtub:
One look would be enough for you to fall in love with this elegant bathtub. Handcrafted from harvested wood and treated to multiple coats of varnish to achieve a super glossy look, the bathtub features a unique oyster shape that makes it stand out from its circular and rectangular counterparts.
Chrome faucets rising from the ground lends a modernistic twist to this otherwise rustic bathtub.This wooden bathtub is sure to offer a natural, earthy tone to your modernistic and cozy bathroom.
5. Rustic Wooden Bathtub:
Some of us may prefer a more rugged wooden bathtub as opposed to the ones that come with clear lines and edges. If you are looking for such a wooden bathtub for your home as well, consider opting for the dramatic wooden bathtub.
Handcrafted out of rich walnut wood, this bathtub features a rather rough design that makes it look bolder, more dramatic and creative. This bathtub gets the fair share of attention in modern but at the same time rustic bathroom, as it lends a daring ambiance to the entire space.
6. Hinoki Wood Japanese Bathtub:
Made of traditional hinoki wood from Japan, the Hinoki Wood Japanese Bathtub reflects myriad concepts in its integral design, including multiple functions, complex details, influential styles, historical conflicts and even technological inventions.
The simplistic design of the bathtub makes it an attention grabber for sure. You can also choose to buy optional fittings like a removable seat that can be positioned higher or lower as per your preference, and a custom bench to allow entry into the bathtub while in a sitting position.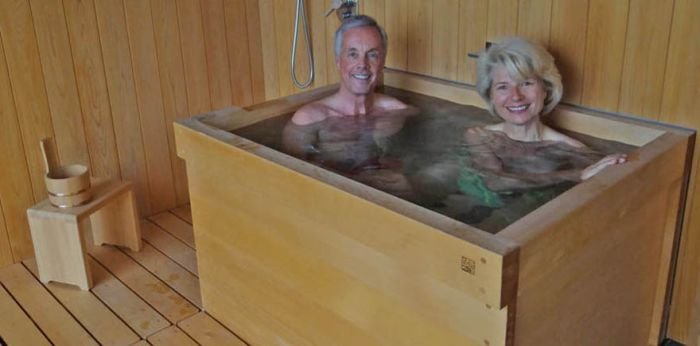 7. Boat Bathtub:
Inspired by the feel one gets when floating on water, the boat bathtub is the brainchild of Dutch designer Wieki Somers. Featuring a rich wooden design, the bathtub is in fact a small boat that has been turned inside out to create a bath.
The inside of the boat is coated with a light layer of white ceramic to avoid water seepage and prolong the life of the wood. Simple and extremely creative at the same time we say.
8. Laguna Pearl Wooden Bathtub:
The highlight of the Laguna Pearl Wooden Bathtub is it's hard to miss shine. Inspired by the beauty and elegance of marine woods, the oval shaped bathtub features a dark wood body that takes on a soft sculptural form to fit modernistic interiors.
The extra shine and gloss on the bathtub makes it shine like a pearl in itself (hence the name). In your bathroom, this free standing bathtub would surely grab eyeballs for sure.