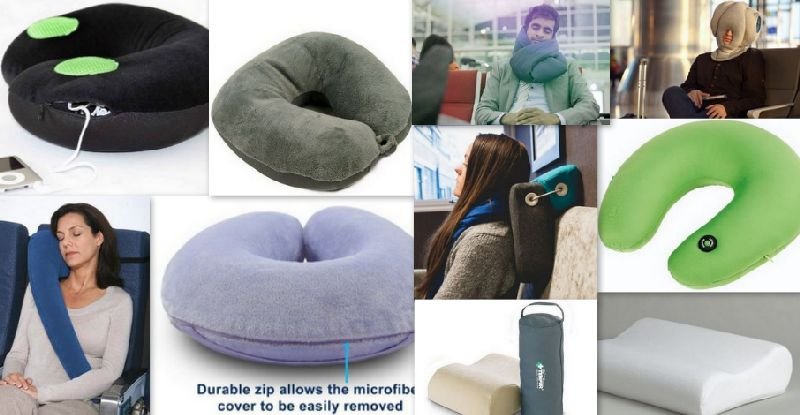 Planes, trains and automobiles are not the best places to take your sweet naps when on the road. But one can at least try to make his/her sleeping sessions a bit more comfortable. And this is where the travel pillows enter the picture with their varied shapes and flexible designs.
So, without further delay, let us check out ten such snug yet innovative travel pillows that effectively cater to our personalized comfort level.
1) Sound Asleep Travel Speaker Pillow –
Made from brushed polyester cover and filled with high quality polystyrene beads, the U-shaped Sound Asleep Travel Speaker Pillow is tailored to solve your napping woes. We say this because of the product's unique feature that allows you to tuck in your iPod cords inside the cushion. These wires are held in a special zip pouch, while the pillow has strategically placed 'speakers' (specially made for the contrivance) that emanate soft music close to your ears.
Buy – £9 (around $15).
2) Ostrich Pillow –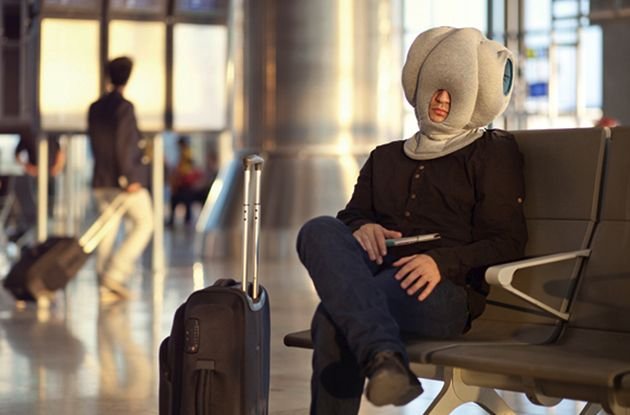 IF you are quite happy to run the risk of looking a tad silly, the Ostrich Pillow would surely sate your quirky side with comfort. The incredible brainchild of Studio Banana, the product is made of flexible fabric and filled with micro balls. And the best part is – it can be worn over your head like a bag/mask, thus 'privately' cushioning your visage and shoulders from a variety of hard surfaces, be it a table, a seat or even a wall.
Buy – $96
3) Comfort Master Travel Pillow –
The Comfort Pillow boasts of its special thermo-sensitive memory foam that conforms to our varied body shapes, while its accompanying posture-oriented attributes ergonomically maintain our head and neck alignment. Such therapeutic credentials are further complemented by a removable (and washable) soft microfiber cover that can be accessed via a zip.
Buy – $23
4) Sleep Innovations Contour Travel Pillow –
A combo of 75 percent cotton and 25 percent polyester, the simple yet effective Sleep Innovations pillow is designed to relieve your sensitive (and painful) pressure points by virtue of its 'contours' and premium quality memory foam. In fact, the contour-oriented angles are adjusted to our spinal alignment. Moreover, the usability factor is improved with an easy-care terry velour cover that is removable and washable.
Buy – $16.
5) SleepMax MicroBead Ultra Soft Travel Neck Pillow –
Comprising of a hypoallergenic ultra-soft plush velour pillow top, the contrivance is endowed with what is termed as the 'SleepMax Advanced Micro Bead' technology. This infused tech alludes to the 'right' degree of softness while also covering the comfortable scope for our neck and shoulders. Furthermore, the product set comes with a snap closure that makes it much easier to attach the cushion to our carry-on hand luggage.
Buy – $12
6) Outwell Massaging Travel Pillow –

There is more to the Outwell Massaging Travel Pillow than that meets the eye. Available in soft colors like lime green and light blue, the pillow design boasts of a vibrating massage feature (powered by two AA batteries) that tepidly works its magic on our necks. Other than this 'dynamic' aspect, the cushion is snugly draped in nylon/spandex and is filled with soft micro bio-beads for aptly conforming to the pressure exerted by our head region.
Buy – £12.50 (around $21).
7) Flip! Cushion –
While most travel cushion designs encompass singular components, the Flip! cushion from Unikia comprises of dual entities – with two padded sections that can be arranged into a myriad of configurations to aid your relaxed state. These pads are just connected by a simple rope, and thus can be easily detached to result in two separate cushions. Such flexible characteristics are complemented by the durable and removable cover, which rather improves upon the usability factor.
Buy – €50 (around $70).
8) TEMPUR Original Travel Pillow –
If technology is your preference, the Original Travel Pillow might just be the advanced cushion for you. Made from visco-elastic foam (also known as TEMPUR), the hi-tech material was originally conceived by NASA for cushion aircraft seats that could reduce pressure on astronauts. Additionally, the pillow design can be compressed to a whopping 30 percent of its volume (in a specially designed bag), when needed to be carried in mobility-oriented scenarios!
Buy – $75 – $230.
9) Forever Pillow –
Inspired by the vast possibilities of 'eternity', the Forever Pillow from Huzi Design is flexibly shaped like a band which looks like Möbius strip. This flexible nature is translated to multi-usage in various scenarios ranging from a conventional sleeping pillow, a normal back-rest contrivance to a comfortable neck pillow and even an easy feet warmer. Furthermore, this assorted usage pattern is bolstered by the product's eco-friendly Bamboo fabric (filled with 3M Thinsulate), which is anti-bacterial, hypoallergenic and 'silky smooth' to use.
Buy – $59
10) Travelrest Inflatable Travel Pillow –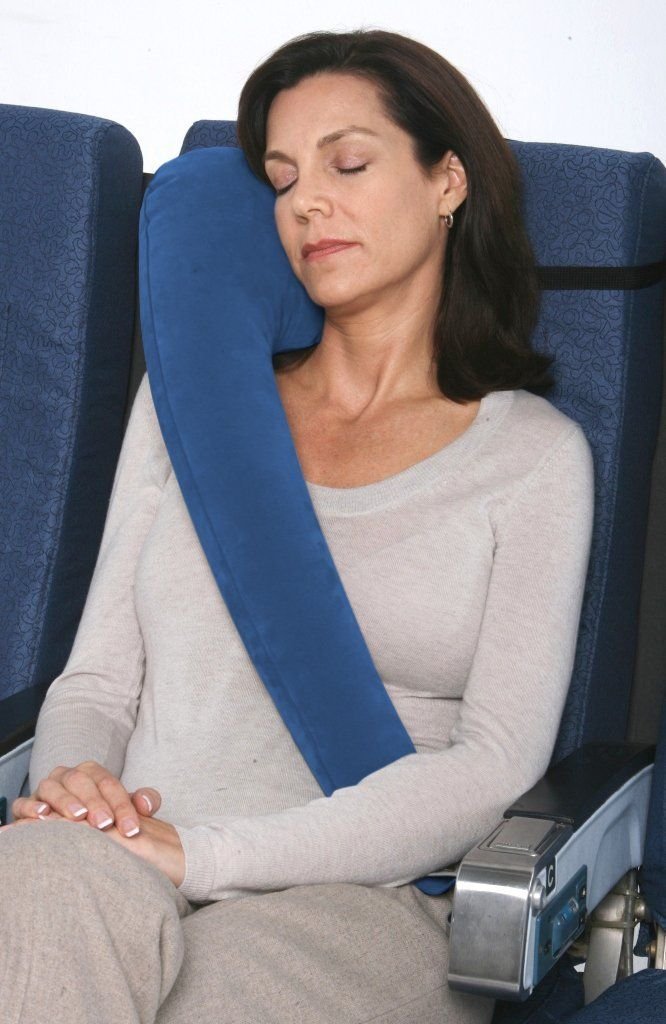 Touted as the world's best selling travel pillow, the Travelrest changes the pillow game with its uniquely elongated shape that supports the entire upper body. It can be worn like a messenger bag or fixed to a seat's backrest, thus making it a perfect accompaniment in planes, trains, cars and even wheelchairs. But the best part is – the entire contrivance can be inflated by just two 'quick breaths', which certainly makes it portable and handy in outdoor situations.
Buy – $27