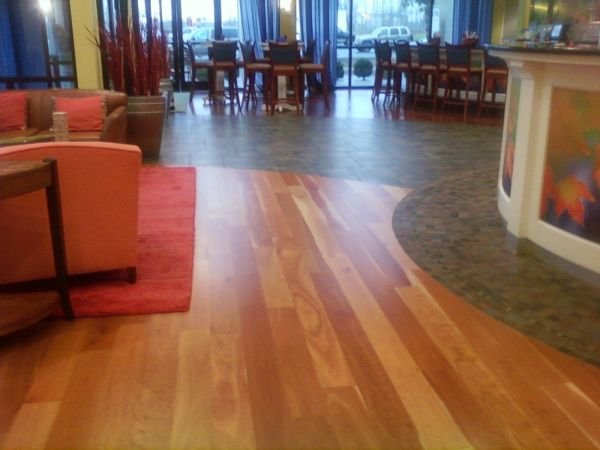 When it comes to floors, the daunting scope is not only limited to the aesthetic value of the material. Of course, the visual quality of your floor is an important part of the decor; but even more crucial is the type of the room, the usage pattern of the room and the durability of the floor material. In a nutshell, when choosing a floor covering, it is practical usability that takes precedence over other factors like looks and novelty. So we have decided to help you out with five choices of floor coverings, all of which have their own set of selective advantages and disadvantages.
1. Carpet
Carpet is probably the first choice for many, and there are good reasons for it. In terms of texture, there are luxuriant variants of carpets that can extensively cover your floor while endowing your decor with a plush essence. Carpets also have the advantage of safety with their padded credentials, especially when there are little children playing around the house. However, the predicament lies with those accidental spills and splatters. A few drips of ice cream can spoil the external surface of a costly carpet specimen, with cleaning methods that might even add to the already inflated bills. Carpets and rugs also have a way of acting as bastions for various bacteria, dust mites and dirt. So, if you are not willing put in maintenance efforts like regular vacuuming and shampooing of your carpet, it is better to opt for the item in low circulation areas like bedrooms.
2. Wood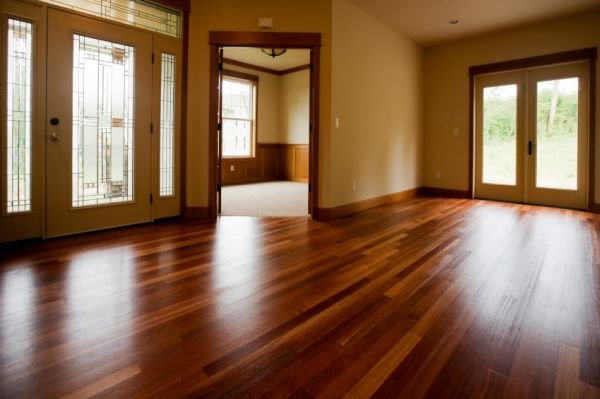 Wood is another popular floor covering for many users. One of the primary reasons is that it is not affected by the afflictions of carpet, like bacterial growth and dust invasions. However, the problem with wood is ironically the sheer number of options present in the market that might baffle the user, and induce them to make the wrong choice. In this regard, as a thumb rule, always opt for a sub-floor with asphalt felt, with coating the upper wood surface with polyurethane sealant. This can credibly negate the effects of kitchen spills and dampness. As for the type of wood, it entirely depends upon the preference of the home owner. For example, hardwood varieties like oak, cherry and fir are not as susceptible to denting as pine. And if you have an 'avant garde' decor arrangement, you can further try out exotic varieties like teak and Brazilian cherry.
3. Vinyl 
Among all types of floor coverings, vinyl tiles are the easiest to install. Moreover, they can be cleaned efficaciously and have the ability to resist damages from improper furniture positioning. Also, they are available in a wide range of colors, textures and compositions that can be conveniently matched up with your eclectic decor style. All of these qualities makes the vinyl tile an apt floor covering for areas like kitchens, bathrooms and laundry areas. So, what exactly are the drawbacks of vinyl tiles? Well, the proper functioning of such tiles is directly related to the structure and design of your house. If your floor begins to settle because of sub-standard foundations and soil type, there can be cracks appearing on the tile surfaces. Added to that, vinyl tiles can be both cold and slippery in low temperatures. Consequently, you have to tread carefully during such conditions, and also make heating arrangements beneath the floor (specifically, if your residence is located within a cold climatic zone).
4. Ceramic Tile
One of the historically famous floor coverings, ceramic tiles have appeared in a myriad of buildings, monuments and structures from Roman, Greek and Persian architectural heritage. In this regard, the 'piece de resistance' of a ceramic tile is surely its allure of magnificence and exquisiteness. On the other hand, its intrinsic ruggedness plays its part in a non-porous structural capacity that can withstand copious amounts of moisture and dampness. In accordance with all these imposing characteristics, ceramic is pretty hard to install, especially if you take the DIY route. So, if you are opting for the item, make sure you have adequate help and obviously the money to spend for the elaborate flooring.
5. Cork
Cork is sort of like the new kid on the block of floor coverings. The material is gradually gaining prominence among users, and rightly so with its flurry of advantages. The primary benefit entails the inherent flexibility of the cork, which can potentially save your precious crockery from smashing to bits due to those occasional stumbles and fumbles. Furthermore, cork is fire resistant, nonabsorbent and moisture-proof, while also having the ability to retain heat and resist sound. However, as with every 'fallible' material, the cork does have its share of drawbacks. One of them is the requirement of regular maintenance (like vacuuming and cleaning), as cork floors tend to scratch by the effect of dirt accumulation. You should also try to properly seal the outer surfaces with polyurethane or wax coating. This is because of the invasive nature of stains and oil spills that tend to percolate inside the cork material.