The very phrase 'Steampunk' takes us back to the antediluvian yet adventure-prone Victorian Age where copper studded contraptions charmingly chimed with brass hued thingamabobs. And, now we have come across some conceptions that have ingeniously managed to set up the same level of 'Victorian' ambiance in our ever trusty kitchens and bathrooms.
We are of course talking about Steampunk kitchen and bathroom sinks, and how they brighten up our interior spaces with their ornate designs and shimmering metallic facades. So, without further ado, let us check out some of the Steampunk sinks we have salvaged from the depths of the internet.
1) Copper Copper…everywhere!
This dual-sink is a part of a Steampunk-themed kitchen at a Home Depot Expo held in Virginia. Draped entirely in a glittering coppery hue, the top section is bedecked with an equally elaborate faucet. The conspicuous shimmer is more prevalent because of the contrast between the flashy sink and the black granite background and counters.
2) Steampunk sink with steam pressure gauge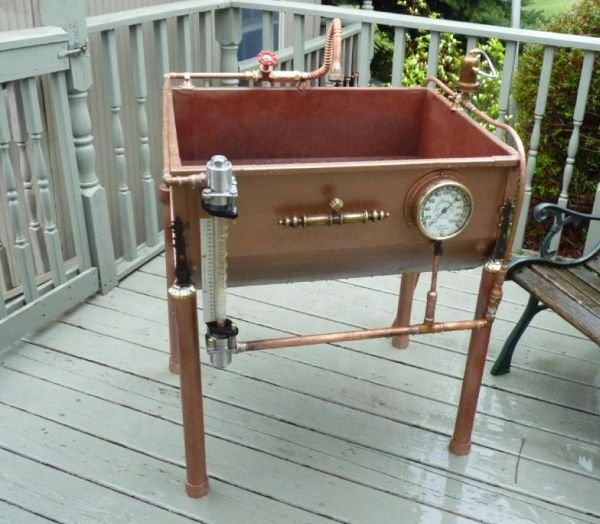 The above pictured conception is what we would call a 'proper' Steampunk sink with all the working paraphernalia of the early 20th century. The design includes a old galvanized sink, an authentic 1911 Steam pressure gauge and a finally meter for measuring gpm (gallons per minute) when the faucet is opened.
3) Wild West Steampunk sink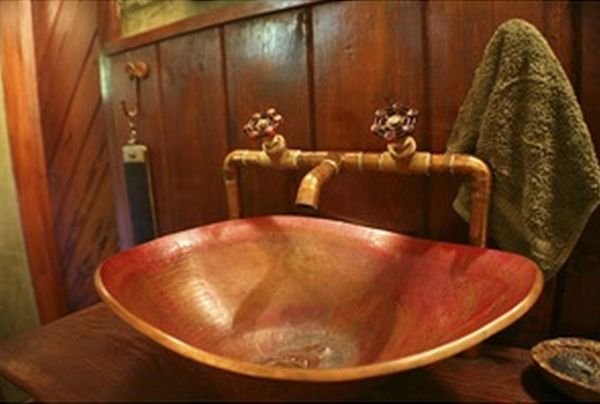 Any true Sergio Leone fan would be familiar with the austerely designed sink pictured above. Composed of a definite coppery hue with a slightly brass tint, the sink resembles an unpretentiously crafted porcelain bowl found in those Wild West inns. The faucet on the other hand seems to bring us the comfort of modern day life with both hot and cold water.
4) Steampunk sink alcove
With a church-like essence, this elegant (and certainly genteel) sink alcove was contrived by one Gary Leitzell, during the renovation of his old townhouse. The main visual quotient of the alcove is defined by an authentic copper plumbing pipe. However, instead of carrying water, the pipe connects the antique looking bulbs with an electrical outlet.
5) The futuristic Steampunk sink
A futuristic combination of both a shower and a sink, this uniquely crafted contraption was conceived by the Emme Group. A good example of 'structural expressionism', the sink harks back to the design language of   core Steampunk, which is translated with a contemporary outlook. In this regard, it is actually good to see the novelty of steel adorning the exterior skin, instead of conventional 'Steampunk-esque' copper.