Food has always been the source of sustenance for gourmets and gourmands alike. However, a few designers have transformed this primal level of dependence into a delectable scope of inspiration. As a result, we are witness to various types of food-inspired furniture items, some delightful in their design and some scrumptious in their setup.
So, without further ado, let us present to you eight such visually appetizing albeit inedible furniture items that are sure to make you and your guests salivate in rather ungentlemanly ways (caution – don't read the post, when you are hungry!).
1) Cannoncino Pouf –
In the realm of cuisines, the Cannoncino is an specialty dessert from Italy, made of puff pastry with dense custard being delicately rolled inside. Italian designer Diego Gugliermetto has perfectly captured this scrumptious essence with his glorious Cannoncino Pouf.
2) Bigne Poufs –
Designer Diego Gugliermetto's food fueled inspiration is however not just limited to Cannoncinos. This time around he has remarkably created the Bigne Poufs, which are inspired by the Bigne confectionery (or Beignets in French), a special type of pastry made from a shell of deep fried choux paste.
3) Let Them Sit Cake –
Created by Viennese studio Kabiljo, the aptly named 'Let Them Sit Cake' is inspired by the historical quote of Marie Antoinette (that supposedly fueled the French Revolution). The furniture features a stack of fake flour bags (made from recycled components) that are sumptuously covered in a thick chocolate icing. These 'icings' were ingeniously contrived from polyol sponge, which unlike real chocolate doesn't melt under heat.
4) Zjedzony Banana Chair –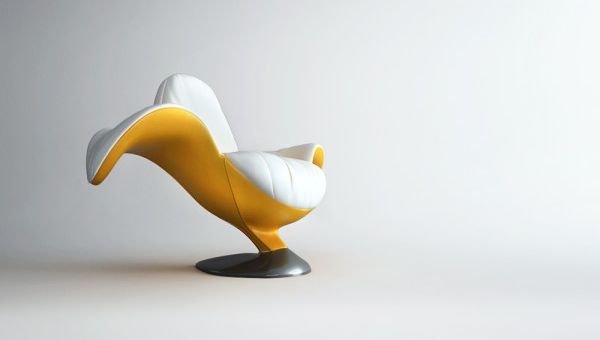 Zjedzony translates to 'eaten' in Polish; and that pretty much explains the design embodiment of the Banana Chair by WamHouse Studio. The scope however is not just defined by its the furniture's food-derived inspiration, as we can make out the opulent lines that complement the soft, snug bearing of the chair.
5) Ice Cream Cookie Ottoman –
The Ice Cream Cookie Ottoman by Jellio entails a pretty simple affair. The vanilla ice-cream part is made from solid foam, while the chocolate wafer cushions are covered in brown-hued canvas. But there is more to the furniture than meets the eye. Underneath the bottom sandwiching chocolate wafer is a set of wooden legs that provides optimized support to the whole circular bearing, thus also upholding its purpose as a usable table. (Buy – $700).
6) Pizza Inflatable Chairs –
Designed as delectable resting props (by Wow! Works LLC), the Pizza Inflatable Chair can be the perfect accompaniment to your kid's room. And the best part is – they are made from safe and durable polyester fabric, which in turn is just draped in digitally printed fabric. (Buy – $40).
7) Giant Drumstick Pillow –
If you are sufficiently impressed by those slightly burned portions amid the lusciously glazed golden skin, the Giant Drumstick Pillow might just satiate your craving for a food-inspired furniture item. And, the good news is – these heavenly pieces of inedible chicken legs are up for sale for $25 a pop. (Buy – $25).
8) Pizza Sleeping Bag –
Handmade by using recycled quilts for the stuffing and dyed fabric for the cheese and sauce, the groovy Pizza Sleeping Bag (from Etsy shop Bfiberandcraft) is ultimately lined with flannel to improve upon the comfort factor. And the toppings of broccoli, pepperoni, mushroom and onions are available optionally. (Buy – $200).