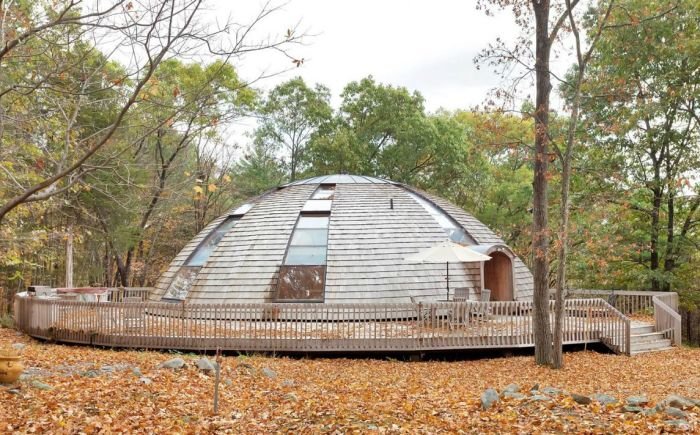 Ever wondered how life will be in a house that rotates 360 degrees by the touch of a remote? If answer is in the affirmative, then the New York situated dome shaped home is sure to excite you. Nestled in the middle of a 28-acre forest and at a distance of about 90 minutes north of New York City, the dome shaped house resembles a UFO in shape and style. A premium offering of Domespace, a French kit home company, the house in contention can rival even the best geodesic dome dwellings in terms of design and range of amenities on offer.
Erected in 1999, the 2,300-square-foot engineering marvel accommodates three spacious bedrooms. Incorporating an eco-friendly design, this house allows the occupant to savor the splendor of nature. However, the most remarkable thing about the house is its ability to rotate 360 degrees by the touch of a remote; thus, making for a memorable experience. The rotation of the house not just allows the occupant to experience the change in scenery, but also drive home the advantage of sun in controlling and maintaining the indoor temperature.
One among the 200 "Domespaces" built worldwide, this house embraces a wall-free floor plan. An open kitchen, dining, living area and humongous curved windows aside from towering ceilings reaching up to 40 feet in height are other appealing attributes of the house.
Moreover, the house has a custom-built spiral staircase for augmenting its beauty. Additionally, the house also accommodates library, office, guest bedroom, and bath at the upper level. As of now, the two-level space is used as bed and breakfast accommodation; and, the client has to shell out USD 2,300 to enjoy a month stay. When it initially went for sale in 2012, the property was priced at $1.2M but currently the asking price is well over $950K.