Those home decor aficionados with a proclivity for exotic fishes and other forms of marine based organisms have always opted for aquariums as one of the tabletop centerpieces of their living rooms and drawing spaces. From the perspective of decoration, such items do notch up an ambiance of aquatic allure that might work in favor of your interior space. And even when judged from the angle of technology, modern day aquariums have traversed much beyond the scope of a 'goldfish in a glass bowl'. In this regard, we have salvaged a list of fascinating tabletop aquariums that would compliment your contemporary home decor. So, without further ado, let us briefly check out some of them.
1. AquaVista Acrylic Tabletop Aquarium: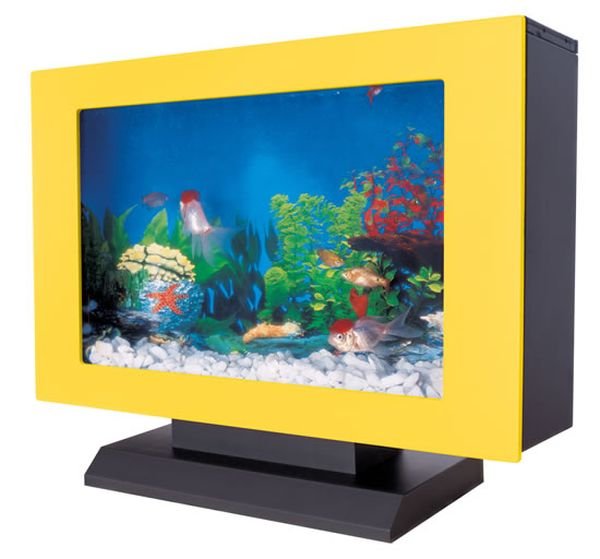 If you have a penchant for both televisions and aquariums, then the AquaVista is aptly tailored for you. Adroitly mimicking a flat screen LCD monitor, this smartly designed conception supposedly provides a 3D panoramic view with deft lighting features and background mechanisms. Pre-assembled with low voltage lighting components and a filter/air pump, the aforementioned backgrounds can be easily submerged and changed according to the user's preference. And finally beyond the visual element, the tabletop AquaVista also exhibits space saving attributes to fit your furniture.
Price: $160
2. BiOrbs Tabletop Aquarium:
Those with a thing for traditional elements should have a gander at the BiOrb Aquarium. Coming in different shapes and capacities (a 4 gallon model is shown in the above image), there is more to this conception than can be comprehended at the first instance by its pretty conventional design. For starters, it has a state-of-the-art, five stage filtration system which is an integral part of the aquarium. Secondly, the glass in the picture is crafted from sturdy plexi-glass material. Finally, the design has built-in halogen light from enhancing upon the 360 degree viewing pleasure.
Price: Ranging from $69 (for the 4 gallon capacity) to $385 (for the the 28 gallon capacity).
3. Aqua Scape Tabletop Aquarium:
Sometimes core technology can be superseded by apt design considerations. This is certainly proven by the Aqua Scape. As can be derived from its name, the conception depends upon its unique spatial qualities to entice potential users. For example, the circular model of the Aqua Scape provides an illusion of magnifying the underwater scene, thus replicating a greater space (than it actually is). On the other hand, the larger hexagonal and octagonal Aqua Scapes provide a multiple perspective of the glorious marine based scenery.
Price: Ranging from $196 (for 8 gallon capacity) to $376 (for 15 gallon capacity).
4. Fluval Edge Aquarium: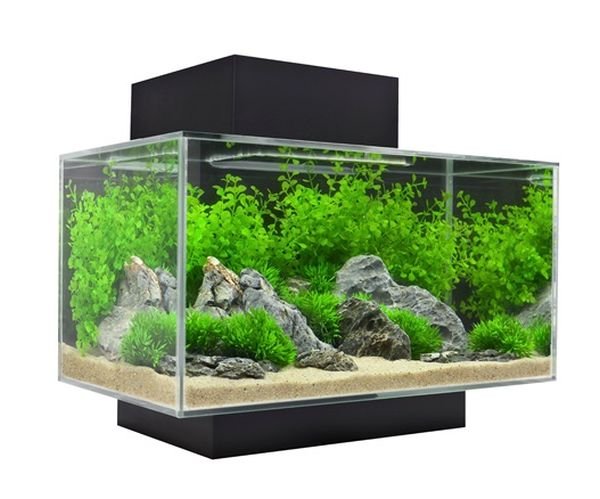 The very essence of elegance furnished with dollops of sobriety: this in a nutshell is the world's first 3D water cube aquarium, Fluval Edge. According to its creators, the core design is inspired by modernistic architectural styling. However, even beyond the classy visuals, this 6 gallon contraption is packed with a bevy of high-tech attributes. These include three stage filtering mechanism, sealed top to reduce evaporation and an ergonomically compact design that also goes easy on the assembling and maintenance part.
Price: $145
5. Tabletop Saltwater Aquarium
Since, we were talking about advanced features in the earlier, the Tabletop Saltwater Aquarium seriously kicks up a few notches in the department of technology. The dome shaped form (with 16-inch diameter) crafted from marine grade acrylic provides an easy 360 view from all around. And exceeding the convenience of forms and views, this aquarium comes with a progressive yet silent filtering system that has the capacity to circulate through a whopping 3 gallon of aquarium water, at a breakneck rate of 20 times per hour (which makes it five times faster than conventional mechanisms). Furthermore, the base of the aquarium has a  flexible 'accordion' like bearing by which the dome can be physically stretched. This structural quality makes it easy to clean the aquarium without requiring to remove either fish or water.
Price: $130