Back in 2012, we fell in love with BRC Designs' Suicide Chair, a nifty contrivance made from an assortment of used soda cans. And, now the cool designers are back with a bang with their Binary collection of furniture. Ingeniously crafted from pallets of computer components, electronic thingamabobs and warehouse salvaged items, the gloriously futuristic collection comprises of tables, chairs, a cabinet, a sofa and a rug.
Binary Table –
The core structure of the table is assembled and then riveted from an assortment of metallic pieces, all salvaged from computer towers. The external 'skin' covering this core form is envisioned as an electronic collage consisting of motherboards, chips, hard drive disks and even LED screens. These components are sturdily hooked in place by sheet metal screws. And to literally top off the upcycled credential, the above glass panel was sourced from an old warehouse.
Dimensions – 25-inches (w) x 27-inches (d) x 22-inches (h); for the side table.
The designs include another table variety and an additional low table (as we can see in the below gallery).
Binary Chair –
Similar to the Binary Table, the Binary Chair also showcases its intricate craftsmanship of electronic collages. Additionally, the chair boasts of its interesting interactive quality. In this regard, the electronic components can actually be tinkered with by the user, like – spinning the hard disk drives, adjusting and lifting the antenna, or even gleefully pressing the various buttons.
Dimensions – NA
Binary Sofa –
Once again, motherboards and chips embellish the external facades of the Binary Sofa, while its core system is constructed from solid computer panels. The expansive seat also showcases the similar interactive nature of the aforementioned chair, thus allowing users to play with a variety of electronic thingamajigs and dojiggers. The essence of futurism is further carried forth by the classy sofa cushions upholstered in actual ribbon cables salvaged from old computers.
Dimensions – 88-inches (w) x 38-inches (d) x 28-inches (h)
Binary Cabinet –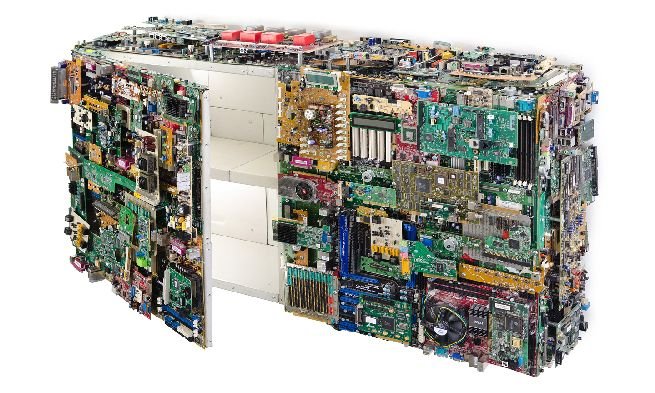 Inspired by the same design principles of the previous furniture items, the Binary Cabinet is an apt exhibition of exquisite yet whimsical craftsmanship. We can actually make out a dedicated GPU and even a cooler fan amid the intricate field of fallen boards and digital chips. However, the best part about the design would surely be the visual contrast showcased by the minimalist interior (presumably made from computer tower parts) and the electronic vibrancy of the exterior.
Dimensions – 52-inches (w) x 15-inches (d) x 26.5-inches (h)
Binary Rug –
Oh yes, there is also a rug in the classy collection! Boasting of a substantial size to go with your living room floor, the Binary Rug is made from an arrangement of ribbon cables that showcase their playful rainbow pattern in clear light.
Dimensions – 6-foot x 9-foot