Gone are the days when multiuse products only used to serve the space saving purpose at home. Now the time has changed, as the space saving options available in the market these days ensure the availability of free space in your home, while making it all the more happening and stylish.
Here we have listed some of the most creative space saving ideas to declutter your home and give a neat and spacious look to your interior.
1). Pet House Planter: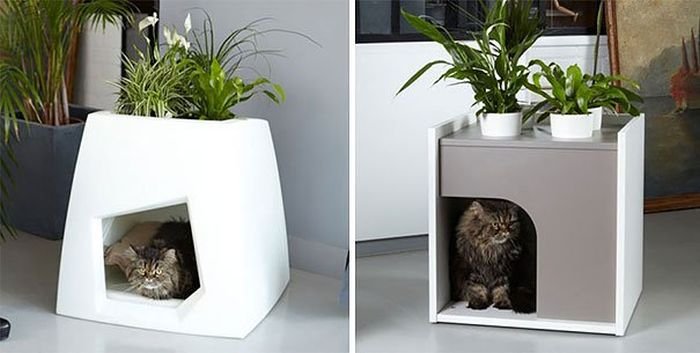 To own pets sometimes becomes quite difficulty, especially when you have a small home without much free space available to keep your pet's bed.
Providing a solution, here we have a multipurpose planter that doubles as pet house to rest your small, furry pets in comfort. With the pet house planter, now you can grow small indoor plants to add greenery to your home, while the space underneath is adequate to shelter a small pet.
2). Wall Shelf:
Usually the wall space that lies at a corner near the edge of the door remains unused and wasted. With this wall shelf, now you can use that wasted space to keep books, toys, photo frames or whatever you like. You can get this shelf in the market or go for a DIY project, as you can easily make this clever, space saving shelf on your own.
3). Slide out table: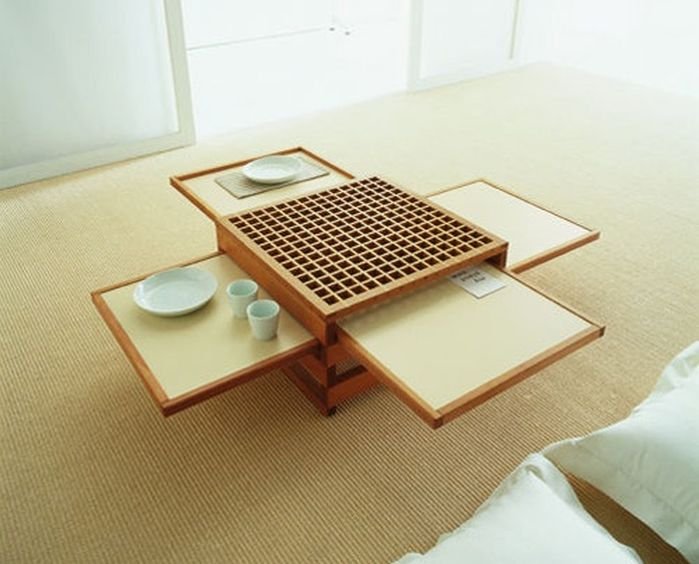 Perfect for a room wherein you cannot have a big dining table, the slide out table enables four family members to dine at a time. When not in use, the table looks like a square block with a tabletop, and when you slide its four sides out, it becomes a perfect dining table. Kids can also use it as their study table if they want.
4). Tables and chairs pod:
Whether you choose to place it your living room or your patio, you do not require a big house to own this piece of furniture. The table and chairs pod as the name suggests is a set of four classy looking chairs and a center table when you collapse it, and a pod (as you can see in the picture) when not in use.
5). Wooden couch arm wrap:
If there is not enough space in the room to place end tables, then you must get the hang of these wooden wraps that sit perfectly on the couch arms. For these arm wraps will provide your guests a suitable spot to place their drinks, despite the absence of the end tables.
6). Wall bed and sofa:
A soft and cushiony sofa during the day, and an extremely comfortable bed at night, the sofa cum bed seems to be ideal for people who live in one room apartments or for the ones who have a penchant for space saving or multiuse furniture.
7). Four chairs in one:
Here you have wooden chairs with unique and modern design that are classy to look at and comfortable to sit. The sophisticated four in one design offers a great space saving formula, as you can store four chairs in the space of just one, when not in use.
8). Ironing Board cum Mirror:
Who needs a separate ironing board and a dressing mirror when you can solve both the purposes with a single product? Go for this unique combination of a mirror and ironing table and save space in your home.
9). Painting cum jewelry storage:
Here is a masterpiece to enhance the aesthetic quotient of your dwelling. Not enough, you can also use it as jewelry storage to keep your jewelry safely and elegantly.
10). Bunk bed cum sofa:
This beautiful orange sofa doubles as a bunk bed. Place it in your drawing room as sofa during the day and make it a bunk bed to provide a suitable resting space at night.