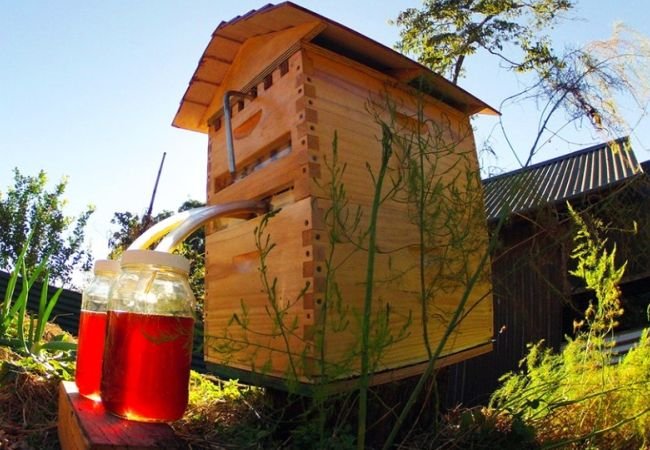 The technological aspect of extracting honey has seemingly stuck to archaic traditions – that is till now. A father-and-son duo Stuart and Cedar Anderson has ingeniously crafted their version of a contraption that can harvest honey from hives, without disturbing the natural tendency and scope of the bees themselves. Christened aptly as 'Flow Hive', the design boasts of a wooden form with special honeycombed frames inside the structure and a tap-like mechanism (with spigot) that discharges 'honey on demand'.
So, the question naturally arises – how does the setup work? Well, the aforementioned honeycomb frames (which are man-made) plays an important role in the process. To that end, the bees on recognizing such familiar shapes of honeycombs, have a tendency to 'complete' the comb compartments with their organic wax. These cells are then crammed with honey and naturally sealed by the insects.
Now, when the user turns the spigot mechanism, a motional impact forces these cells to break vertically – thus allowing the stored honey to flow outside. This flow is oriented by specific channels that ultimately conduct the honey into a separate trough at the bottom of the Flow Hive device. One can place jars below the 'taps' from this trough, which makes it pretty easy to collect the naturally contrived honey.
In case you are wondering, on turning the spigot to its original position sort of resets the comb into its pre-state. The bees then again repeat their organic procedure, which furthermore leads to cyclic manufacturing and collection of honey.
And the good news is – this ingenious contrivance has deservedly received an incredible crowd-funded backing over at Indiegogo with over $2 million raised (out of just $70,000 goal), with 41 days still to go. Pricing starts from $600 for a fully-working Flow Hive device.