Well, two types of confrontations have always raged between the sexes: one based on equality, and the other based on keeping down your toilet seat. Regarding the more commonly encountered (at least in a domestic circuit) second scenario, the Elevar from LKY Design righteously comes as the peacemaker. Remember those trash cans that conveniently open their lids when pressed on a pedal situated at their bottom section? The Elevar tank-less water closet basically employs that same technique, albeit with a more psychological force. Adding to that the opened lid automatically closes in after you have flushed. The result is that the toilet once again emerges as a relatively 'clean' space, and it is achieved without having any tiffs with your wives and girlfriends.
According to the designers, the very action of touching your unsterile, 'dirty' toilet seat to lift it up or set it down alludes to an unclean scenario, where harmful bacteria can be transmitted by your hands. In this regard, the Elevar completely traverses this scope of touching. All you need to do is press upon the bottom foot pedal to lift up the seat. Correspondingly a dual lever system acts upon the seat, and keeps its 'locked' in its place. However, after you have attended your nature's call and used the flush, the seat is released from its opened position, thus once again automatically closing upon the water closet.
Now, beyond its convenient user friendly mechanism, the Elevar is also appealing in its visual essence. Comprising of angular linear lines with a sober, elegant finish, the conception does bring that dash of futurism in our contemporary bathroom decors.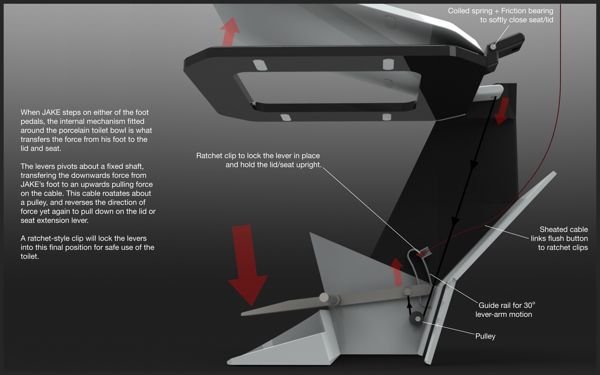 Via: LKYDesign