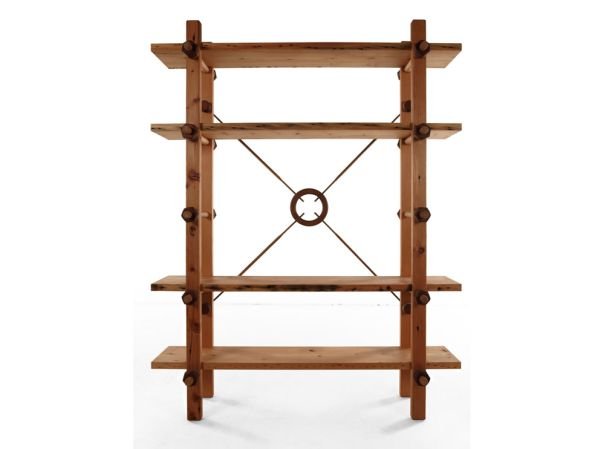 Previously we have harped about technology aiding the scope of household oriented designs. However, in this instance, the designers have willfully eschewed the application of hi-tech attributes to craft a novel yet practical item. The conception in question is a home ladder that is completely made from a sturdy arrangement of wooden planks. Christened as the 'Fenwick Ladder', all of the materials used for the design are actually recycled in nature, thus accentuating its degree of 'greenness'.
The unique project had been undertaken by the South London based studio of Hendzel + Hunt. According to the designers, these ladders have been crafted by just using reclaimed materials from the studio's local area of Peckham. For example, the shelves are made from reclaimed pallet board and roof trusses, which were salvaged from a nearby old church.
However, beyond the arrangement of bigger wood components, it is the way they are 'fixed' that really exhibits the workmanship of the designers. In this regard, they have totally refrained from the use of metal fixings. Instead the joining of Fenwick Ladder has been done by utilization of hand made wooden nuts and bolts. On closer inspection, we can actually see the finer details of these smaller elements that aesthetically as well as structurally blends into the wooden framework.
Finally, the visual quotient is completed by the four angular wooden rods that meet at a circular rim in the middle of the shelves. This further enhances upon the bucolic ambit of timber, while the ultimate form caters to retro and modern spaces alike.
Via: HendzelandHunt