In our modern times, Frank Gehry is known in many circles as the master of contemporary architecture. His fascinating projects like the exalted Guggenheim Museum in Bilbao or the Walt Disney Concert Hall in downtown Los Angeles has shown their eminence in attracting both tourists and critics alike. And, now his next grand endeavor will entail the imposing project of what many of us social media enthusiasts might take an interest in – the all new 435,000 sq ft Facebook headquarters at Palo Alto, near San Francisco Bay.
Touted to have the world's largest open-plan office layout in terms of sheer area, the Facebook campus spread over 22 acres, will have the capacity to accommodate 2,800 engineers. In fact, the very notion of the endeavor pertains to the construction of a single giant room that can effectively shelter thousands of employees at a time.
However, this collective nature of the layout will not sacrifice the individual's right to spatial privacy. The solutions presumably will be in the forms of quiet spaces specially designed to complement the huge internal space.
Consequently, the large room will also have its expansive yet singular green roof that will seamlessly stretch into the adjacent community area. In essence, the roof is envisioned as a gargantuan park with its extensive walking trail, a field and an assortment of open-spaces to just sit and relax.
Lastly, this landscape influenced arrangement will also be augmented by the nature-inspired embodiment of the imposing building. According to Mark Zuckerberg (one of Facebook's co-founders and current chairman) himself, the outer profile of the Facebook campus will look like a green hill, with undulating heights ranging from 45 ft to 73 ft.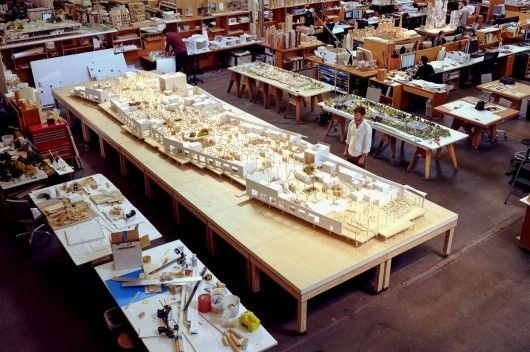 Via: ArchDaily