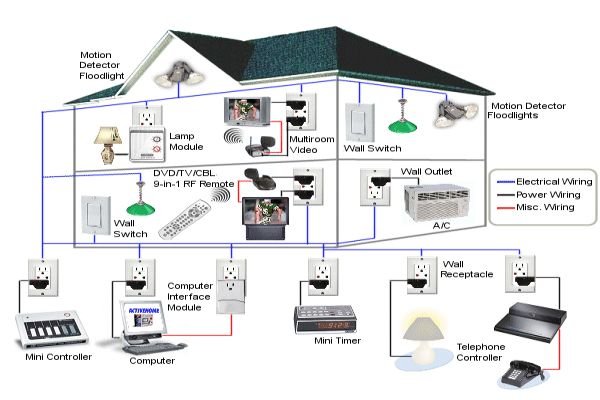 Home automation represents the latest advance in home security solutions. Its cutting edge technology allows the user to control their home from across the street or around the world,through a web-enabled computer ormobile device. ADT's Pulse is a remote home management tool that's been getting a lot of accolades because it not only helps homeowners feel more secure, it also helps them get green.
How Home Automation Makes Your Home More Environmentally Friendly
Through a user friendly, interactive touchscreen, homeowners have the ability to control a number of aspects of their home, making it more environmentally friendly (and easier on their bank account too).
Save Energy. Home automation like Pulse allows the homeowner to remotely turn lights and appliances on and off. When an appropriate dimmer is installed, Pulse also has the power to dim lights. Use the video feature of Pulse to quickly scan your home for lights and appliances that have been left on, or opt to receive text messages that provide alerts and status updates.No more returning home to turn off your Tween's flatiron- you can do that right from the office.
Remote Home Temperature Control. We have all left the house for vacation and forgotten to adjust the thermostat. ADT's Pulse makes sure that never happens again. Pulse allows you to control your home's thermostat remotely- saving energy and money. You can even set your thermostat on a schedule via Pulse. Or, adjust the thermostat right before you arrive home and you'll enter a comfortable home that's budget conscious.
Save Gas and Limit Car Emissions. Forget driving home during your lunch hour to open the door for housekeeper; you can arm and disarm your house as well as lock and unlock doors right from your phone, tablet or desktop. Best yet, you can create recurring events, like unlocking the door for the babysitter at 3:00 p.m. every weekday.
The Hub of Home Automation
Pulse's Schedules Tab acts as a command center of sorts, providing the homeowner with an overview of their home's status. Homeowners can check the status of devices, discover unusual device activity, view recent pictures and videos, and review any schedule set to run that day.
Although Pulse is a product of the well known home security company ADT, it offers much more than remote security; namely climate control and light management. From empty nesters, to single parents and especially those who are environmentally and budget conscious, the customizable features of home automation enables everyone to find a plan that best suits their needs.
And if you're a homeowner who is looking to take Green to the next level, consider these tips from the U.S. Green Building Council.
Switch to Compact Florescent Light Bulbs. Making the switch to compact florescent light bulbs (CFLs) can save you a bundle over the years. If you can't switch all of your light bulbs to CFLs at once, start with the lights you most commonly use.
Reduce Water Usage. Install flow restrictors on shower heads, fix those pesky dips and leaks, and when possible install low-flow toilets.
Choose ENERGY STAR® Appliances. When it is time to upgrade or replace appliances, select those with the highest Energy Star ratings. These appliances have been tested and found to be highly energy efficient.
Turn Down Water Heater Temperature. Many waterheaters are set to 140 degrees Fahrenheit. But professionals generally agree that 120 degrees is entirely suitable. The environmental website PracticallyGreen claims hot water typically accounts for about 18 percent of your overall utility bill;turn the heater down a few degrees and you could enjoy a big savings. As a bonus you'll also reduce the water heater's carbon footprint.
ADT's Pulse Interactive Solutions give homeowners the opportunity to be more environmentally conscious by allowing them to monitor and control their home on-the-go. The result is less energy consumption and improved savings.
What other tips do you have for going green?