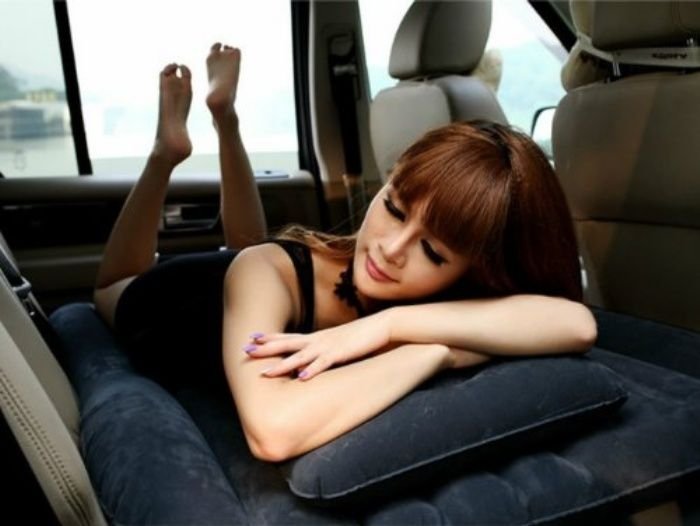 Cars remain the preferred modes of travelling and transport in many countries, including United States. But oddly enough, there are few comfort-oriented designs that cater to car-borne travelers when they are out on their jolly weekend journeying endeavors. Fortunately, the Inflatable Car Mattress fills this practicality void, with its 'on-board' snug credentials and heavy duty nature.
According to the creators (a company known as Drive Travel), the Inflatable Car Mattress can be laid across the back-seat of a vehicle to convert it into a makeshift bed. The resting contrivance is made from high quality and durable PVC, which is further complemented by the 'micro-fluffy feather-feeling' surface.
Of course, given the dimensions of the portable mattress (as we can make out from the images), only a single bed can be arranged across a conventional car back-seat. So, the design assemblies (for resting) can be better optimized for larger vehicles with more seats, like vans and SUVs.
Furthermore, the foldable mattress package also comes with an electric air pump, a repair pad and glue kits; to aid you in case of emergency scenarios intruding upon your sessions of 'in-car' sleeping and lounging.
Dimensions – Folded volume: 25 cm x 22 cm x 10 cm; When Spread to Size: length 115-130 cm, width 85-90 cm, height 38-43 cm.
Buy – $129
Via: OhGizmo