Two years ago, Kohler introduced their state-of-the-art $6,400 'Numi' toilet mechanism with a shitload (sorry, slew) of features that included an automatic opening and closing lid, a self-cleaning bidet with adjustable controls for temperature and water pressure, an illuminated panel and even an integrated speaker system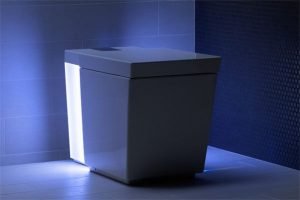 that connected to a remote docking station. Of course, all of us toilet aficionados thought back then – 'there is no going further than this'.
But, now Kohler has once again turned the tables by unveiling their aptly christened 'Numi Comfort Height' (K-3900). Adding other features like a USB port and Bluetooth connectivity, we daresay this is the most advanced piece of porcelain on the face of this earth.
According to the designers, the inclusion of the USB port would allow for more 'seamless; software updates from the company's service department. The Bluetooth also has its own set functions like allowing users to stream audio directly from their mobile devices. Additional attributes include a SD card that helps you to create your very own personal playlist and welcome greetings.
But these features are all ancillary enhancements that do not relate to the main function of the toilet. However, coming to the aspects of core usability, Kohler does have some goodies stored for us (or at least the rich among us).
In this regard, the Numi Comfort Height will have an ambient lighting mechanism that not only helps you in the dark, but also fuels the 'party' essence of the conception. Furthermore, there will be an accessible battery pack for easy flushing in the dark and ergonomic improvements, like height adjustment of the seat for adults.
Price – $6,000