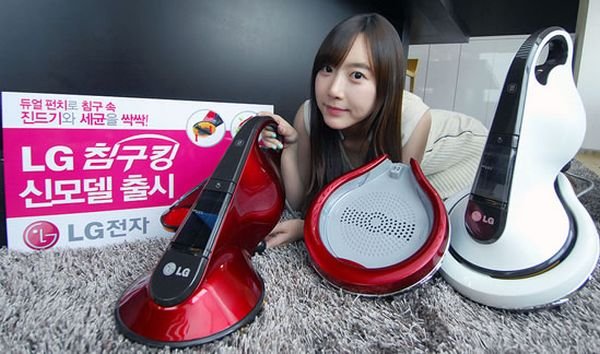 With the release of 'Bedding King (Model: VH9200DS) – The Bedding Cleaner' in Korea, LG yet again pronounced itself with a bold statement. The new ferociously power packed machine knocks back and forth, 8000 times per minute enabling it to remove each minute particle of dust. Its motion vibration, powerful suction power and soft rotation brush help you remove the tiniest tick and hairs from your beddings. With the help of its two high performing HEPA filters it catches minuscule dust particles (99.99% block) which may even cause breathing and other health ailments. In the process, Bedding King makes the air cleaner inside your home.  The design of its handle is trendy and comfortable. The design at 40 degrees makes it a pleasure to work with the machine.
LG has taken full care to make the cleaning process of the Bedding king simple and convenient so the machine has a one touch dust bin attachment that can be operated very easily.  So the dust is dispensed with ease and without any fuss. The machine also has a UV lamp inside the station which sterilizes subtle and harmful bacteria at the bottom of the cleaner.  This feature can be called a boon for houses with children as they are most vulnerable to these harmful bacteria.
The all featured and power-packed LG Bedding Cleaner VH9200DS is priced at approximately 219,000 won ($195) in Korea and is available in red and white color variants.