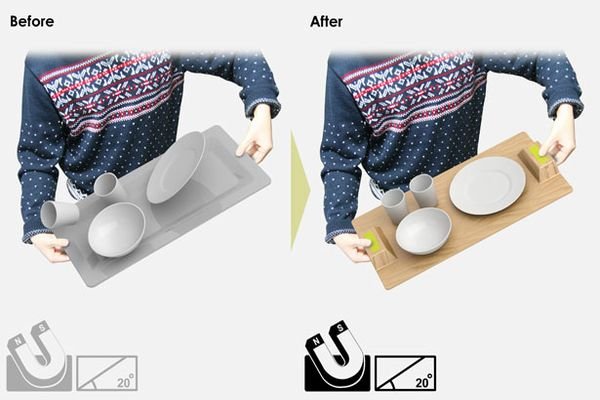 This is very useful design introduced by Ryan Jongwoo Choi. Many times we have noticed mistakes due to nervousness while serving food in restaurant or any public gathering, which is embarrassing for everyone around witnessing the act. Well, this Magic Tray comes into our rescue with its logical concept to overcome these problems.
With the principal of magnetism the bowl and tray gets attached to each other. When try with a bowl is carried the magnet under the bowl attracts the magnet under the tray and due to the magnetism both tray and bowl gets connected. When we release try down on the table or anywhere the gap between try and bowl occurs due to spring fixed in between them and disconnects the magnetism to make bowl detached easily from the tray.
Do check the images and image gallery to understand the concept better.
Via: Tuvie