Looking like a chair coming out of some Last Judgement inspired artwork, the above pictured 30 ft high chair is the handiwork of Brooklyn-based artist Mark Reigelman. Almost soaring to an altitude that is equal to two floors of an ordinary building, the installation is christened as the Nidosilla (Nest Chair).
Now, in case you are wondering about the need for such a gargantuan furniture specimen – the Nidosilla was created as a part of an exhibition belonging to the DECODE design festival, held every year in Monterrey, Mexico. The behemoth design itself was inspired by the Fundidora Park, which is also located in the city of Monterrey. This 350-acre site was an industrial zone till the very 80's. However, major urban renewal projects transformed the restricted area into a sustainable public park with planted trees and scenic water bodies.
In spite of this overhaul, the Fundidora Park does preserve some parts of its industrial legacy by holding on to steel foundry artifacts on every street corner. Reigelman was influenced by this supposed juxtaposition of factory-made and nature-made scope, and as a result created the Nidosilla. To that end, the giant chair was constructed by attaching over 12,000 painted boards over a huge wooden framework.
This alludes to a nest-like arrangement made out of scavenged and salvaged materials. In other words, it is all about an 'organized' man-made structure complemented by the rejuvenation ambit of nature.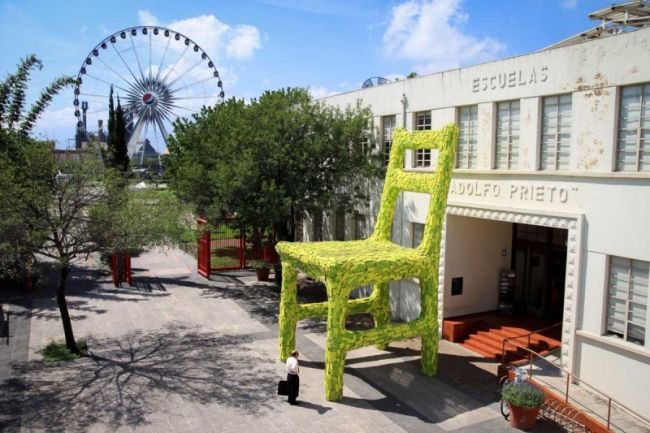 Via: Contemporist