It is not often that we talk about bathrooms and beds in the same sentence. Well, Metaform architects have made that possible with their brand new design of an apartment in the tiny (and very rich) nation of Luxembourg. As one can make out from the images, the bed not only contains sink spaces but also a full fledged bathtub to go along with the washing area.
This 'sinks and tub' zone is further accompanied by a pair of suspended mirrors, thus completing the setup into a self-contained bathing area. However, on closer inspection, there are some predicaments with the spatial arrangement of the tub. For example, the tub is installed with one of its side bordering the bed (while the other side is bordering the sink area). So, if one needs to get out of the tub after a peaceful bathing session, he/she needs to take the route of the bed – which would make the mattress wet.
The toilet area on the other hand is demarcated from this 'bedroom/bathing area' by just a transparent glass wall. Now, while having privacy (or lack thereof) is a matter of taste, we would seriously hope the toilet zone comes with its own ventilation credentials. In other words, health issues should take precedence over just a gimmicky style factor.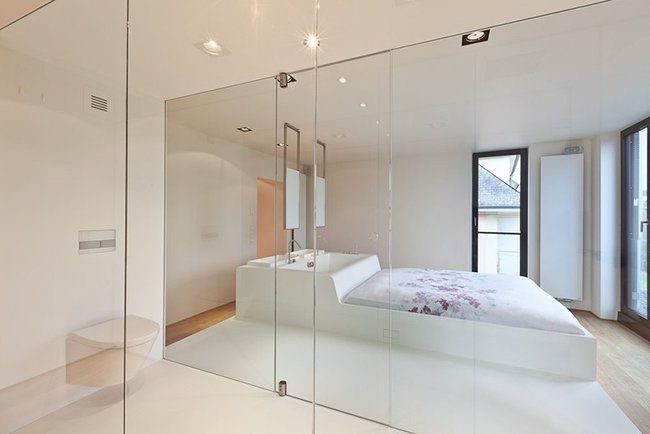 Via: TreeHugger