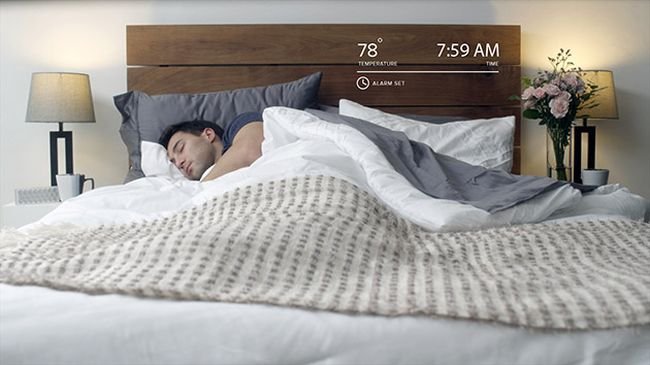 When it comes to the realm of smart beds, the designs do not come cheap – as exhibited by the $7,000 ReST Bed in this year's CES, and the $8,000 x12 bed from previous year's CES. But what if you can get some of these 'smart' features in a mattress cover, instead of a whole mattress? Well, that is exactly what the Luna brings to the table (or more precisely, the bed) with its flurry of embedded sensors.
These sensors can 'sense' a wide range of your biological processes and activities, including breathing and heart rate. This is complemented by accelerometers that can detect and keep track of your sleeping postures, and built-in microphones that record your snoring patterns.
All of these collected data in turn is sent to your smartphone. One can keep his/her preferred settings on a dedicated Luna app, which automatically allows the cover to change its optimized temperature. In essence, the Luna smart cover can both heat up or cool down, depending on your choice – and it can do so with variant temperature settings on both side of the bed.
In spite of all these features, the 'piece de resistance' of this smart cover is arguably its open-source status. In other words, the cover can be synced up with other 'intelligent' fixtures that are also connected to the internet/WiFi. This also entails the connection with Nest, thus covering the scope of working in sync with washing machines, smart locks and other devices.
And finally, all these aspects are boosted by the fact that the Luna smart bed cover comes with a relatively cheap price tag of $179. You can pre-order here.
Via: Lunasleep